Greening the Governors' Trail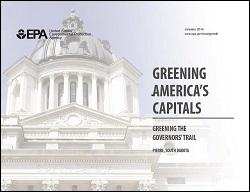 The city of Pierre, South Dakota, requested assistance from EPA's Greening America's Capitals Program to create a cohesive vision of green and complete streets and public spaces for the city's Governors' Trail, which connects the state capitol building to the Missouri River.
The city wanted to create a new model for making pedestrians and cyclists safer and more comfortable in this area of the city, which is well-used by both residents and visitors. As part of this project, city staff also hoped to enhance the Missouri River waterfront to make it more attractive and provide more recreation options.
EPA's design team held a three-day workshop in the project area to engage stakeholders, residents, business owners, and community members in outlining goals for the project and developing design options that respond to those goals.
The report describes assets and challenges that informed the design options for several key locations. The city chose these locations based on their potential to help area businesses and residents, as well as their capacity to illustrate the transformative potential of green and complete streets. The design options illustrate improved amenities and safety features for pedestrians and bicyclists, as well as integrated green infrastructure components such as stormwater planters, permeable pavement, and street trees.
You may need a PDF reader to view some of the files on this page. See EPA's About PDF page to learn more.