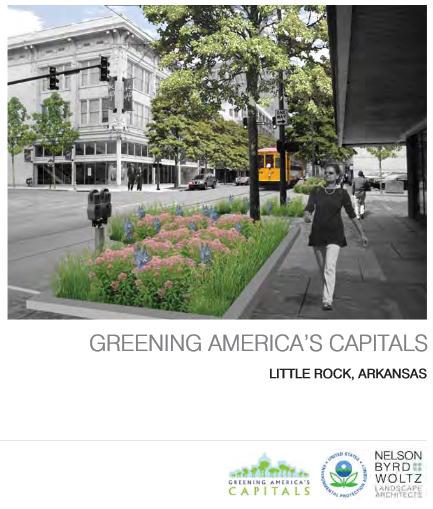 The city of Little Rock, Arkansas, received assistance from EPA's Greening America's Capitals program to help the city envision improvements to the Main Street corridor, which runs north-south from the River Market district in downtown to the neighborhood south of Interstate 630 known as the Southside Main Street (SOMA) district.
The city selected Main Street for this project because redevelopment has been occurring in both the River Market and SOMA districts, and there is great potential to spur similar revitalization along this historic corridor by redeveloping vacant buildings and underused parking lots; improving streetscapes; and adding public art, parks, and green spaces.
The project team helped the community develop design concepts that meet environmental and economic objectives. The design and consultation process included a workshop with federal, state, county, and city staff; Main Street property owners; SOMA residents and representatives; local developers and designers; and residents.
This work builds on work the city had already begun through the Mayors' Institute on City Design, Exit a National Endowment for the Arts leadership initiative in partnership with the American Architectural Foundation and the U.S. Conference of Mayors, to engage the public and identify key assets and challenges that should be addressed in the Main Street area.
Greening America's Capitals - Little Rock, Arkansas (2010), illustrates design concepts that use green infrastructure to better manage stormwater runoff and reduce ambient air temperatures while also creating attractive streets and public spaces that reflect Little Rock's sense of place.
Read about the results from the Little Rock project and learn about other community assistance projects in EPA's "Community Stories" story map (link will open in a new window or tab).
You may need a PDF reader to view some of the files on this page. See EPA's About PDF page to learn more.