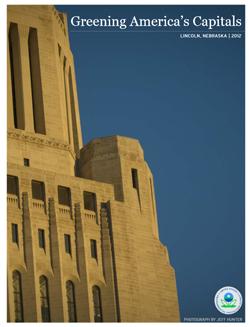 In 2011, Lincoln, Nebraska, applied to EPA's Greening America's Capitals Program to revitalize the South Capital area through improvements to streets and alleys. EPA assembled a team of experts that visited Lincoln to conduct workshops with a range of stakeholders, including the mayor, city and state agency staff, local business and property owners, students, teachers, and the public, to develop an environmentally, socially, and economically sustainable vision for the South Capital area.
The vision proposes making pedestrians safer and more comfortable, improving streets and parking for bicycles and cars, creating outdoor gathering spaces, improving stormwater management, and increasing opportunities for small business. Together, these improvements can enhance the area's appearance, reduce the environmental impact of the built environment, and increase the area's development potential.
Greening America's Capitals - Lincoln, Nebraska (2012) outlines the vision for the South Capital area, strategies to achieve the vision, and a phased implementation approach. The city, working with its partners and stakeholders, could use the designs and implementation options to guide revitalization of the South Capital area and make it an even more attractive place to live, learn, work, and play.
The city has installed curb bump-outs and new sidewalks along key intersections of 11th Street, as well as a roundabout with improved crossings for pedestrians. Later phases of implementation will include LED street lights, new sidewalks with permeable pavement, green infrastructure, bike lanes, colored pavement along the bike lanes, and bike racks.
You may need a PDF reader to view some of the files on this page. See EPA's About PDF page to learn more.