Greening the South Central Waterfront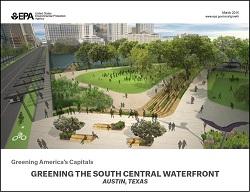 The city of Austin, Texas, requested technical assistance from EPA's Greening America's Capitals Program to develop components of a public realm framework and vision plan to guide redevelopment of and public investments in the South Central Waterfront, a 97-acre district on the south shore of Lady Bird Lake. 
The vision includes using public and private open spaces as green infrastructure to manage stormwater runoff to improve water quality and minimize localized flooding. The framework and vision plan will guide physical planning of future infill development on underused private and public properties. 
EPA funded a design team to assess the redevelopment area and collaborate with city staff, residents, local business owners, property owners, and other stakeholders to develop and identify design options that could improve the public realm. The team developed design options for five sites that respond to the surrounding conditions and community input, including the community's desire for green infrastructure and a balance of public amenities, private investment, and cultural connectivity.
This report identifies near- and mid-term steps the city could take if it chooses to implement any of the design options, as well as strategic public and private partners who could support and fund implementation. These next steps could catalyze public and private investment in the redevelopment area; test traffic configurations for improved safety; and demonstrate how the public realm could be more vibrant, beautiful, and ecologically beneficial.
You may need a PDF reader to view some of the files on this page. See EPA's About PDF page to learn more.