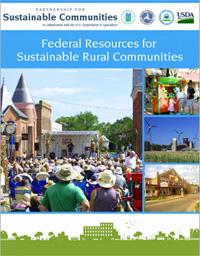 The Partnership for Sustainable Communities, a collaboration among the U.S. Department of Housing and Urban Development, U.S. Department of Transportation, and EPA, worked with the U.S. Department of Agriculture to develop Federal Resources for Sustainable Rural Communities (2012).
This publication highlights federal resources rural communities can use to promote economic competitiveness, protect healthy environments, and enhance quality of life. It provides information on funding and technical assistance opportunities from the four agencies, as well as examples of how rural communities across the country have put these programs into action. 
Learn more about smart growth in small towns and rural communities.
You may need a PDF reader to view some of the files on this page. See EPA's About PDF page to learn more.