Outreach on Reducing Carbon Pollution from Existing Power Plants
Since June 2013, EPA engaged with states, utilities, labor unions, nongovernmental organizations, consumer groups, industry, the general public and others so we could learn more about what programs are in use to reduce carbon pollution and what is working well.
EPA held 11 public listening sessions across the country to solicit ideas and input from the public and stakeholders about the best Clean Air Act approaches to reducing carbon pollution from existing power plants. Over 3,000 people attended these listening sessions, and more than 1,600 offered oral statements. EPA's summaries from these 11 public listening sessions are available at: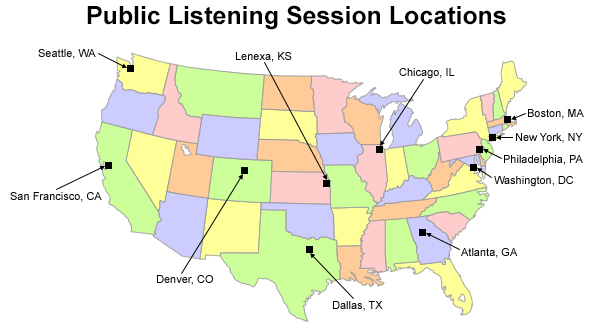 EPA learned that states are already leading the way in reducing carbon pollution - especially through programs that encourage energy efficiency. EPA heard - and agrees - that:
a reliable, affordable energy supply is vital,
flexibility is key,
power plants are part of a large and complex interstate system and that we should find a way to allow for or even encourage regional solutions.