PRIME Net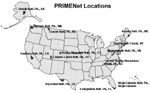 In response to EMAP program reviews and the work of the President's Committee on the Environment and Natural Resources

(CENR), EMAP and the National Park Service (NPS) are identifying research sites to test intensive, multi-media, long-term monitoring. The two agencies are establishing fourteen sites to demonstrate appropriate site selection, measurements, and analyses for assessing local, regional, and national ecological condition. Information from these sites will also help to identify research hypotheses, particularly those related to process-level phenomena, for further investigation at the sites.
An Intensive Site Work Group is currently working with the CENR to identify the appropriate characteristics for a set of national intensive monitoring sites. The Work Group will then demonstrate that those site characteristics can produce needed and useful information for the assessment of ecological indicators, and that selected common indicators can be used in this site format to provide information necessary for the forecast of future risks to sustainability, particularly those stresses associated with global exposures.
EMAP and the National Park Service

are initiating field research this year, beginning with air monitoring. Plans include installation and operation of ultra-violet (UV) -B monitoring equipment at 13 National Park sites and in Huntington Forest, NY. (See EPA's Ultraviolet Monitoring Program web site.) These data are currently maintained by the University of Georgia

which has a cooperative agreement to collect the data from the instruments.
Additional air quality information will also be obtained from each site. Currently, this includes visibility, SOX, NOX, wetfall and dryfall. In 1997-1998, the agencies will add deposition of nitrogen, mercury, and selected contaminants to the list of air stressor measurements. In 1998, they plan to begin monitoring stressors of water quality, soil and sediment quality, and habitat quality.
EMAP and NPS are also developing a guidance committee to determine research necessary to understand the ecological effects of monitored stressors. Field research already identified for 1997 includes the effects of UV-B exposure on reptiles and amphibians in terrestrial environments, and on plankton and coral in marine ecosystems.
For more information concerning the EMAP/NPS intensive research sites, please contact Kevin Summers summers.kevin@epa.gov (Environmental Protection Agency) at (850) 934-9244; or Kathy Tonnessen (National Park Service) at (303) 969-2738.