You are here: EPA Home
Sisters to the Chesapeake Bay
Sisters to the Chesapeake Bay

Note: EPA no longer updates this information, but it may be useful as a reference or resource.
Introduction to the Issues and Ecosystems
Sisters to the Chesapeake
Recognizing that estuaries are unique and endangered ecosystems that are an important natural and economic resource, Congress established the National Estuarine Research Reserve System (NERRS) in 1972 under Section 315 of the Coastal Zone Management Act and the National Estuary Program (NEP) in 1987 under Section 320 of the Clean Water Act.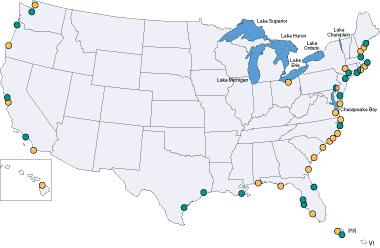 Legend
National Estuary Program sites
National Estuarine Research Reserve System sites
West Coast

Padilla Bay, WA
Puget Sound, WA
Tillamook Bay, OR
South Slough, OR
San Francisco Bay, CA
Elkhorn Slough, CA
Santa Monica Bay, CA
Tijuana River, CA
Waimanu Valley, HI

Gulf Coast

Rookery Bay, FL
Sarasota Bay, FL
Tampa Bay, FL
Apalachicola Bay, FL
Weeks Bay, AL
Baratarria-Terrebonne
Estuarine Complex, LA
Galveston Bay, TX
Corpus Christi Bay, TX
Southeastern Atlantic

Albemarle-Pamlico Sound, NC
North Carolina Coastal sites (4 reserves)
North Inlet/Winjah Bay, SC
Ashepoo-Combahee-Edisto Basin, SC
Sapelo Island, GA
Indian River Lagoon, FL
San Juan Bay, PR
Jobos Bay, PR

Middle Atlantic

Long Island Sound, NY/CT
Peconic Bay, NY
Hudson River, NY
New York/New Jersey Harbor
Old Woman Creek, OH
Delaware Estuary, DE/NJ/PA
(NEP and NERRS)
Delaware Inland Bays, DE
Chesapeake Bay, MD
(3 reserves) Chesapeake Bay, VA

New England

Casco Bay, ME
Wells, ME
Great Bay, NH
Massachusetts Bay, MA
Buzzards Bay, MA
Waquoit Bay, MA
Narragansett Bay
(NEP and NERRS)
Fish Advisories
Estuarine Ecosystem
PCBs
Dioxin
Chlordane
Kepone
Mercury
Cadmium

---

Chesapeake Bay
*
*
*
*
Narragansett Bay
*
Long Island Sound
*
New York/New Jersey Harbor
*
*
Delaware Bay
*
Albemarle Sound
*
Galveston Bay
*
San Francisco Bay
*
NERRS SITES
The National Estuarine Research Reserve System (NERRS), administered by the Office of Ocean and Coastal Resource Management, National Oceanic and Atmospheric Administration (NOAA), is a state-federal partnership under the Coastal Zone Management Act. The Act requires nomination of a reserve site by the governor of a state and designation by the Secretary of Commerce.
Each Reserve is a carefully selected estuarine area of the United States that is designated, preserved, and managed for research and educational purposes.
The Reserves are chosen to reflect regional differences and a wide variety of ecosystem types. Each site is uniquely suited to supporting a wide range of beneficial uses (ecological, economic, recreational, and aesthetic) that are dependent on maintenance of a healthy ecosystem. Each site provides critical habitat for a wide range of ecologically and commercially important species of fish, shellfish, birds, and other wildlife. As part of a national system, the Reserves collectively provide a unique opportunity to address research questions and estuarine management issues of national significance.
Reserves have been designated at the rate of approximately one per year since 1974 and now protect more than 400,000 acres of estuarine lands, wetlands, and waters. As of August 1993, 22 Reserves had been designated (see map on page 24). Some of these sites are home to a number of endangered or threatened species including the American alligator, Atlantic loggerhead turtle, and bald eagle (Ashepoo-Combahee-Edisto Basin, South Carolina); others serve as critical stopover areas for migratory birds (Elkhorn Slough, California, and Chesapeake Bay, Maryland) or serve as important bird nesting areas (Narragansett Bay, Rhode Island, and Rookery Bay, Florida). While some sites are almost completely isolated from the effects of human activities (Waimau Valley, Hawaii, and Wells, Maine), others are stressed because of their proximity to large urban areas (Narragansett Bay, Rhode Island, and Hudson River, New York). The diversity of the Reserves is representative of the heterogeneity of the U.S. coastal zone. Over 550,000 acres are planned for protection in the reserve system by 1995.
The primary goal of the NERRS national research program is to support high-quality studies that significantly contribute to our understanding of the functional ecology of the various ecosystems encompassed by the coastal zone of the United States. The 10-year primary research objective is to study natural and anthropogenic changes in the ecology of the Reserves. A major research priority is the study of nonpoint source pollution (such as agricultural or stormwater runoff), and atmospheric deposition and the resulting alterations within these ecosystems.
As part of this national program, long-term monitoring activities will be initiated for the systematic collection of biological and physicochemical data from the Reserves to form the basis of a national network for tracking the status and trends of our coastal ecosystems.
National Estuary Program
As in the NERRS Program, the governor of a state must nominate an estuary within that state for participation in the National Estuary Program. The state must demonstrate a likelihood of success in protecting the candidate estuary and provide evidence of institutional, financial, and political commitment to solving estuarine problems.
If an estuary meets the NEP guidelines, the EPA Administrator convenes a management conference of representatives from interested federal, regional, state, and local governments; affected industries; scientific and academic institutions; and citizen organizations. The management conference defines program goals and objectives, identifies problems, and designs strategies to prevent and control pollution and manage natural resources in the estuarine basin. Each management conference develops and initiates implementation of a Comprehensive Conservation and Management Plan to restore and protect its estuary.
The purpose of the National Estuary Program is to identify nationally significant estuaries, protect and improve their water quality, and enhance their living resources. The NEP currently supports 22 estuary projects, including 4 sites added to the program in 1992. The NEP sites represent a wide spectrum of environmental conditions in estuaries throughout the United States and its Territories. Habitat types include mangrove swamps and coral reefs in tropical estuaries, eelgrass beds and shallow mudflats of Gulf and Southeast Atlantic Coast estuaries, and cold water estuarine habitats of the Pacific Coast and North Atlantic Coast estuaries. These estuaries are significant in their economic values as well as in their ability to support unique living resources. Although each of these 22 estuaries is ecologically unique
and is stressed by a unique combination of environmental problems, almost all of them have one problem in common--development. Explosive population growth has fueled a corresponding increase in commercial, residential, and industrial development, which in turn engenders increasing discharges of nutrients, toxic chemicals, and pathogens to estuarine waters. Many of these pollutants are generated by both point sources and nonpoint sources of pollution. Point sources of pollutants include industrial and municipal discharges and combined sewer overflows. Nonpoint sources include agriculture, atmospheric deposition, in-place sediments, landfill leaching, septic system leaching, and urban and construction runoff.
Problems currently being addressed by the NEP Management Conference include:

Eutrophication--Loading of excessive amounts of nutrients (e.g., nitrates and phosphates) can stimulate rapid growth and reproduction of algae and bacteria.
Toxic pollutants--Loading of metals, pesticides, PCBs, polynuclear aromatic hydrocarbons, and dioxins can pose a risk to aquatic organisms and to consumers of fish or shellfish.
Pathogens--Disease-causing microorganisms pose a health risk to swimmers through direct body contact or to the general population through consumption of contaminated shellfish.
Living resources and their habitat--Overfishing and the loss or modification of habitat as a result of land development, bulkheading, and dredge and fill operations can lead to changes in species composition and a decrease in species diversity and abundance of living resources.