Lake Champlain

Note: EPA no longer updates this information, but it may be useful as a reference or resource.
Introduction to the Issues and Ecosystems
Lake Champlain is the sixth largest inland waterbody in the United States, surpassed only by the Great Lakes. In the Lake Champlain Special Designation Act of 1990, Congress recognized its national significance.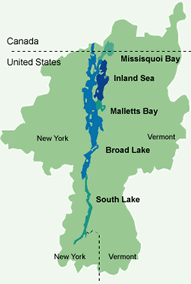 Fish Advisories
State jurisdiction
Pollution
Fish species

---

Vermont
Mercury
Walleye
PCBs
Lake trout >25"

---

New York
Mercury
Walleye >19"
Lake trout >25"
PCBs
Walleye >19"
Lake trout >25"
Brown bullhead
American eel
Lake Champlain covers an area of 435 square miles (excluding the areas of more than 50 islands) within an 8,234-square-mile drainage basin, 56 percent of which lies in Vermont, 37 percent in New York, and 7 percent in Quebec. Lake Champlain's physical characteristics vary markedly moving from south to north; the entire waterbody is commonly divided into five distinct regions:
South Lake is shallow with riverine characteristics. It shows infestations of exotic Eurasian milfoil and water chestnuts, creating marshlike conditions.
Broad Lake is relatively narrow, but contains deep water up to 400 feet.
Malletts Bay lies to the southeast of Grand Isle near Burlington, Vermont, and displays a pattern of restricted circulation.
The Inland Sea (also called the Northeast Arm) lies in the area around St. Albans, Vermont, and contains numerous small islands.
Missisquoi Bay extends from the delta of the Missisquoi River north into the province of Quebec. Like the South Lake, it is shallow with luxuriant growths of water plants accentuating its marshlike qualities.
Lake Champlain has an extremely diverse sports fishery, with as wide an assortment of freshwater fish as any lake in the northern United States. There are sizable populations of over 90 species of game and nongame fishes.
Sport fishing during the warmer months goes hand in hand with boating and other recreational uses. During winter, Lake Champlain offers a very popular ice fishery, especially for yellow perch.
Much of the area surrounding Missisquoi Bay lies within the Missisquoi Wildlife Refuge and offers habitat for many types of waterfowl. The Lake Champlain Valley is part of the North Atlantic Flyway, a migratory bird corridor. Between 20,000 and 40,000 birds have been counted during fall migration. Hunting and other types of recreation are a significant boon to the regional economy.
In addition to its uses for sports fishing, hunting, and recreation, Lake Champlain is the major source of drinking water for nearly 200,000 people in over 20 towns and cities in Vermont, New York, and Quebec. With canals offering links to both the Saint Lawrence and the Hudson Rivers, towns such as Burlington support active commercial harbor facilities. The population of the basin exceeds 600,000. The area around Ticonderoga, New York, has supported various types of industrial activity and still supports a large pulp and paper mill. Smaller areas of industrial activity are found in Vermont. There are seven direct industrial discharges to the lake and 66 sewage treatment plants serving the human populations of the larger communities.
Water Quality Issues
Prior to congressional action in 1990, there was no coordinated management for this impressively large natural "lake." Special funding for Lake Champlain was provided under the 1987 Clean Water Act reauthorization to encourage study of this waterbody. Patterned after the main features of a Clean Water Act National Estuary Program project, the Lake Champlain Basin Program is moving rapidly to develop a comprehensive conservation and management plan. This will include participation from the States of New York and Vermont and involvement with the Canadian government and the Province of Quebec.
Toxics are of concern in the lake. Although Lake Champlain has not been studied as extensively as the near-shore areas of the Great Lakes, elevated levels of certain toxic substances have been found near urbanized areas such as Burlington, Vermont, and Plattsburgh and Ticonderoga, New York. There are also 34 hazardous waste sites and 95 landfills in the basin. The table on page 14 lists fish consumption advisories issued for this lake. The Lake Champlain Basin Program will assist in expanding the range of toxic pollutants analyzed in fish tissue, as well as supporting other studies to sample lake sediments for heavy metals, PCBs, arsenic, and other substances of concern. Deposition of air pollutants will also be monitored to determine if PCBs and mercury are entering the lake ecosystem from the air.