America's Marketplace Recycles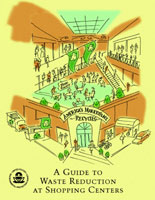 Note: EPA no longer updates this information, but it may be useful as a reference or resource.
America's Marketplace Recycles: A Guide to Waste Reduction at Shopping Centers
This guide was created to help shopping centers and retailers increase reuse and recycling, reduce waste disposal, often saving money in the process. It also serves as a resource for local and state recycling coordinators who work with the commercial sector. The guide contains numerous case examples from shopping centers and retailers who are leaders in waste prevention and recycling. You may download the guide in its entirety or by chapter.
America's Marketplace Recycles: A Guide to Waste Reduction at Shopping Centers (complete guide) (PDF) (52 pp, 4MB, about PDF)
Links to Relevant EPA Programs