Virgin Islands National Park, VI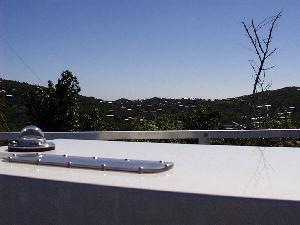 Latitude:
18.336 °
Longitude:
64.796°
Elevation:
2 meters above sea level
Brewer Serial#:
144
Site Start Date:
25-MAY-1998
Site End Date:
N/A
The Brewer is located on the top a modular building about 3.5 meters high on Lind Point on the northwest side of the island of St. John, U.S. V.I. The Brewer is 60 m above sea level. A Meteorological tower about 10 meters high is attached to the east side of the building. To the northeast is a 6-meter USGS tower. Just to the west of the Brewer is another 10-meter tower holding air sampling equipment, and attached to the west side of the building is a 6-meter tower with a nephelometer on the top. All of these towers obstruct the view of the sky to some extent. There is a nearby tree to the SSE and to the east is a large hill. The ocean is seen from the north, through the west, to the south.
Data Files: