Theodore Roosevelt National Park, ND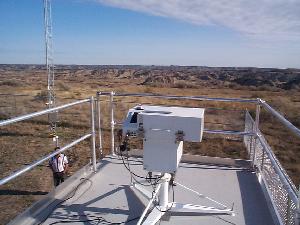 Latitude:
46.896 °
Longitude:
103.378 °
Elevation:
870 meters above sea level
Brewer Serial#:
131
Site Start Date:
30-SEP-1998
Site End Date:
N/A
The Brewer is located on the roof of an instrument shelter about 3 meters off the ground. The site is about 400 meters east of the Painted Canyon Visitors Center in the Park's South Unit. The terrain is largely treeless with arid high plains to the south, breaking downward about 50 meters north of the site into rough, eroded topography of the badlands. Terrain does not interfere with a full view of the sky. There is a meteorological tower to the north of the Brewer and a gas sampling tower within 3 meters to the southwest (against the shelter). The latter tower can be expected to interfere with direct sun measurements in the mid-afternoon.
Data Files: