Great Smoky Mountains National Park, TN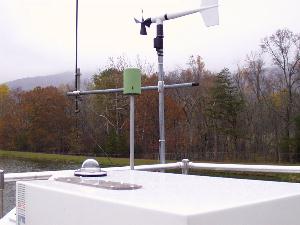 Latitude:
35.603 °
Longitude:
83.784 °
Elevation:
564 meters above sea level
Brewer Serial#:
132
Site Start Date:
07-OCT-1996
Site End Date:
N/A
The Brewer is located at Cades Cove in the northeast side of the Park. The instrument is situated on the roof of a modular building about 3.5 meters off the ground. The building is in a clearing. There is a tree line running west, through south, to the east which inhibits the view within 10 degrees of the horizon. There are mountains in the north (NW-NE) that obstruct the view up to 20 degrees from the horizon. A meteorological tower is attached directly to the building on the NW side and rises above the Brewer by about 1 meter.
Data Files: