Research Triangle Park, NC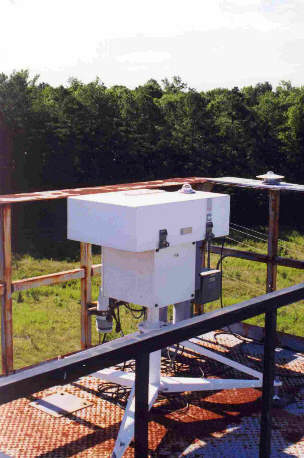 Latitude:
35.97 °
Longitude:
78.78 °
Elevation:
134 meters above sea level
Brewer Serial#:
87 , 106
Site Start Date:
05-OCT-1992
Site End Date:
N/A
History
87 Start Date 03-JAN-1995
87 End Date 12-MAR-1996 106 Start Date 13-MAR-1996
106 End Date 25-AUG-1996 87 Start Date 26-AUG-1996
87 End Date N/A
The Brewer is located on a 13 meter high instrument platform in an open field at Research Triangle Park, a semi-rural locale between the cities of Raleigh, Durham and Chapel Hill, North Carolina. The surrounding forest is a mixture of pines and hardwoods which obstruct the horizon by less than 6 degrees. There are instruments located on the north side of the platform that obstruct the sky somewhat. A 30-m meteorological tower located about 15 meters to the SE may interfere with some morning direct sun measurements.
Data Files:
RTP Data
Link to FTP site.
ftp://ftp.epa.gov/nerlpb/uvnet/rtp/