Rocky Mountain National Park, CO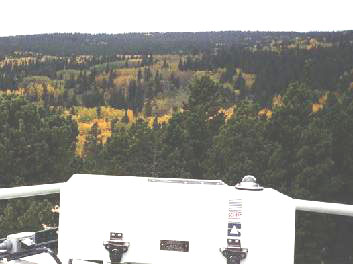 Latitude:
40.032 °
Longitude:
105.533 °
Elevation:
2891 meters above sea level
Brewer Serial#:
146
Site Start Date:
24-MAY-1998
Site End Date:
N/A
The Brewer is located on a 1.5 x 2.5 meter platform on top of the Marr's Laboratory Building at a mountain research station operated by the University of Colorado. The instrument platform is on a pitched, metal roof about 9 meters from the ground. The building is located in a level opening on a hill sloping downward from N to S. The sky is generally unobstructed to the E and S, but trees and terrain begin obstructing the horizon in the W, and block the sky up to about 25 degrees elevation in the N.
Data Files: