Big Bend National Park, TX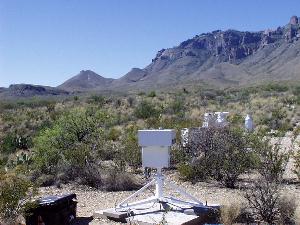 Latitude:
29.305 °
Longitude:
103.177 °
Elevation:
1052 meters above sea level
Brewer Serial#:
130
Site Start Date:
19-FEB-1997
Site End Date:
N/A
The Brewer is located about 50 km from the west entrance to the Park and 4 km east of Panther Junction. The Brewer is situated on a concrete pad at ground level. To the NNE is a small building housing the Brewer computer, and, other either side of the building are meteorological towers. Directly to the south of the Brewer are mountains that obstruct the view up to about 15 degrees above the horizon.
Data Files:
Big Bend Data
Link to FTP site.
ftp://ftp.epa.gov/nerlpb/uvnet/bigbend/