Addressing Uranium Contamination
on the Navajo Nation
Contaminated Water Sources
Additional Resources
You will need Adobe Reader to view some of the files on this page. See EPA's PDF page to learn more about PDF, and for a link to the free Adobe Reader.
On This Page:
---
Background
The Navajo Nation EPA (NNEPA) estimates that up to 30% of the population (approximately 54,000 people) is not served by Navajo Tribal Utility Authority (NTUA) public water systems. These residents haul water either from NTUA watering points or from unregulated sources, such as livestock wells and springs. The number of unregulated water sources is estimated to be in the low thousands.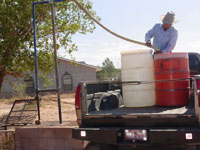 NNEPA policy prohibits the use of unregulated sources for human consumption because these sources are not routinely tested and regulated in accordance with the Safe Drinking Water Act. These unregulated sources are susceptible to bacterial contamination, including fecal coliforms. Nevertheless, human consumption of unregulated water is reportedly widespread due to a lack of public water systems in the more remote and sparsely populated regions of the Navajo Nation. The use of unregulated water sources is the greatest public health risk associated with drinking water for the Navajo Nation.
US EPA is working with the Navajo Nation, federal agencies, and community organizations to sample water sources, inform residents about the risks of using unregulated water sources, and to increase access to safe drinking water sources.
---
Water Sampling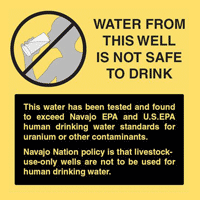 Since 2006, NNEPA, US EPA and the Centers for Disease Control (CDC) have sampled 240 unregulated water sources, based on proximity to abandoned uranium mines and known uses. Most of these sources are used for livestock consumption and some are used for human consumption. Twenty-nine of the sampled sources exceeded drinking water standards for radionuclides, including uranium (See: Contaminated Unregulated Water Sources (PDF) (2 pp, 34K)).  Signs are posted (PDF) (1 pp, 350K) at these contaminated water sources warning individuals not to drink the water.  With Chapter support, three of the contaminated wells are shut down.
CDC, in collaboration with NNEPA, the Navajo Division of Health, Navajo Epidemiology Center and the Navajo Veterinary and Livestock Program, conducted a Household Survey of Drinking Water Sources and Contaminant Exposures at the Navajo Nation

. This survey of 296 randomly selected households was conducted in areas where deep wells serving drinking water were known to have elevated levels of arsenic and uranium. Of 296 water samples collected, 8 samples (3%) exceeded safe water standards for uranium, and 34 samples (11%) exceeded safe drinking water standards for arsenic.  The study found that 22% of the residents haul water exclusively and 53% haul water sometimes, and these water hauling residences had a higher number of drinking water samples with coliform contamination.  The levels of uranium in urine samples did not pose a health concern and were comparable to levels in New Mexico and other southwestern states. 
---
Public Outreach and Education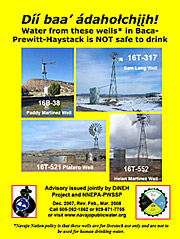 Working together, NNEPA, US EPA, the DiNEH Project, CDC and the University of New Mexico implemented a comprehensive public outreach and education campaign to warn residents about the risks of drinking contaminated water sources. 
NNEPA issued a joint press release informing residents that only regulated water sources are safe to drink because they are routinely sampled by NTUA and regulated in accordance with the Safe Drinking Water Act.  NNEPA also developed safe water hauling guidelines 

to inform residents how to properly haul and store drinking water.  Also, NNEPA hired a circuit rider to provide door-to-door assistance to water users where needed, with limited funding from US EPA's Office of Enforcement and Compliance.
The DiNEH Project and NNEPA, with support from US EPA, posted yellow signs at each chapter warning of contaminated water sources and provided a binder of information to each chapter with past uranium mining and unregulated water sources used for domestic purposes. Other outreach activities included: meeting with officials of 20 affected chapters, posting advisory signs (PDF) (1 pp, 350K), issuing health advisories (PDF) (2 pp, 350K) to affected residents, publishing outreach flyers in the Navajo Times, and distributing brochures (PDF) (4 pp, 1.3M), magnetic handouts and other materials during fair activities. In addition, NNEPA, the University of New Mexico, the DiNEH Project and the CDC aired radio announcements in the Navajo language, and participated in other forums to notify residents about the dangers of using livestock water sources. 
NNEPA also sponsored workshops for the Community Health Representatives (CHRs) within the Navajo Nation Division of Health. These workshops help the CHRs recognize potential health risks and identify for referral any individuals who exhibit health problems that may be caused by environmental sources, including drinking water from unregulated sources or living near an abandoned uranium mine site. The CHRs, who are often the first to provide outreach when they visit people at their homes, can now provide better assistance.
---
Increasing Access to Safe Drinking Water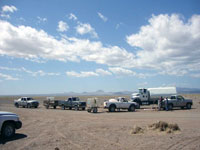 NTUA and the Navajo Nation Department of Water Resources (NNDWR) are working with federal agencies to increase access to safe drinking water by extending public water systems to serve homes without piped water, and by making safe drinking water more accessible for residents who continue to haul water.
Since 2008, IHS, US EPA, and HUD contributed $26M for 14 projects that will provide piped water to 788 homes and benefit an additional 1800 homes near contaminated water sources (For details, see: Water Infrastructure Projects Near Unregulated Water Sources with Radionuclide Contamination (PDF) (1 pp, 22K).  Over $21M of these projects are complete or substantially complete.  NTUA and IHS also added seven new regulated water hauling points, upgraded three existing watering points, and will install five more watering points.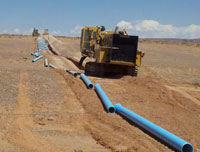 The rural terrain and sparse population in many areas pose unique challenges for traditional piped water solutions.  IHS estimates that it will cost $200M to provide access to safe drinking water and basic sanitation to all Navajo homes.  Therefore, the Navajo Nation and the federal agencies have been working together to implement novel approaches to address this vitally important issue.
The NNDWR is implementing a pilot water hauling program with $2.6M from US EPA.  This program delivers water to central areas where there are no regulated water hauling points.  NNDWR delivered the first loads of water in April 2011 to the Black Falls, Box Springs and Grand Falls areas of Western Navajo.  NNDWR is also delivering water to residents in the Eastern Agency and the Fort Defiance Agency, and plans to expand the program to other areas, serving up to 3000 homes.