Pacific Southwest, Region 9
Serving: Arizona, California, Hawaii, Nevada, Pacific Islands, Tribal Nations
You are here: EPA Home
Napa River Watershed Media Kit

U.S. EPA, Napa County Announce Millions for Water Quality, Flood Damage Reduction, Northern California Salmon
Napa vineyards have suffered flood damage, river bank collapse due to erosion.
Vintners along the Napa River will convert approximately 135 acres of farmland to wildlife habitat
to support restoration efforts.
EPA Contacts
Project Contacts:
The full annual economic impact of the Napa Valley wine industry in Napa County is $10.9 billion
The impact of the Napa Valley wine industry on the State of California as a whole is $15.2 billion.
The total impact of the Napa Valley wine industry on the United States economy is $42.4 billion.
The wine and vineyard sector is easily the county's largest employer. Napa Valley's wine and vineyard sector directly, and indirectly through the services and products they consume or generate, provides nearly 40,000 jobs in the county.
This translates to 231,000 total jobs, nationwide, created by the Napa Valley wine and vineyard sector and its allied industries.
External Partners
All

Related Resources
Vineyard in the Napa Valley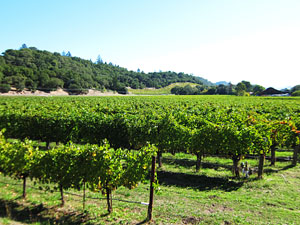 Larger version
---
To see closed captions, use the full screen view.
The Napa River is One of the Largest Rivers Draining to San Francisco Bay
A U.S. EPA Region 9 competitive grant program is helping implement TMDLs to improve water quality, protect wetlands, and advance green development planning throughout the Bay Area.
The Napa River Sediment TMDL was approved by EPA in 2011 to restore steelhead and Chinook salmon populations which have suffered declines as a result of high concentrations of fine sediment. Four categories of human-caused sediment sources were identified and will be addressed by this grant: channel incision/bank erosion, vineyards, rangelands, and roads.
Grantee: Napa County
Funding: $3,265,000 = $1.5 million (EPA grant) + $1,765,000 (Napa County match+leverage).
Expected project completion date: June 2014
Projects
Partners
Funding
Rutherford Reach Restoration

Restore 0.9 miles of the Napa River to improve salmonid habitat and water quality by constructing a widened riparian corridor and removing vineyards to enlarge the floodplain, followed by three years of revegetation to stabilize stream banks.
Develop a plan to monitor physical, water quality and geomorphic changes and fish habitat conditions that will then be implemented with landowner funds. 

Napa County, Rutherford Reach Dust Restoration Team 
$1,680,000 = $450,000 (EPA grant) + $1,230,000 (Napa County)
Oakville - Oak Knoll Reach Restoration Design

Complete restoration design along 3.9 miles of this river reach, including pursuing landowner agreements to allow restoration to occur. (May 2012-January 2014)
Achieve habitat enhancement through removal of Arundo, an invasive plant, as its eradication progresses through the Napa River. (January 2012-June 2014)
Eradicate 5 acres of invasive non-native Giant Reed and plant native riparian trees

Napa County,
California Land Stewardship Institute
$720,000 =
$395,000 (EPA grant) + $325,000 (Napa County)
Ranch Water Quality Plans

Conduct outreach and education to ranchers to incorporate BMPs into ranch plans to foster implementation on 80% of Napa watershed grazing lands.  Activities will include site evaluations and workshops.

Napa Resource Conservation District, UC Cooperative Extension
$225,000 = $155,000 (EPA grant) + $70,000 (Napa County)
Rural Roads Assessment

Assess, prioritize, and implement BMPs to reduce sediment runoff from rural roads and stream crossings per the TMDL's 50% sediment delivery reduction goal.
Update the County Roads Maintenance Manual with improved BMPs to guide these future road improvement projects.

Napa County, Napa Resource Conservation District, Contractors
$420,000 = $200,000 (EPA grant) + $120,000 (Napa County)
TMDL Tracking & Accounting System

Develop a TMDL tracking system. 
Identify tools to prioritize implementation to advance water quality improvements through increased accountability and improve ability to make cost-effective decisions.

Napa County, Contractors
$220,000 = $200,000 (EPA grant) + $20,000 (Napa County)
Environmental Results
Sediment load reduction of approximately 3,000 tons/year equal to 16% of the total annual TMDL target reduction for channel erosion in the Napa River watershed
Repair of approximately 1,800 feet of eroding banks in the Rutherford Reach
Riparian habitat enhancement with eradication of 5 acres of Arundo
Rancher BMP implementation to control sediment and pathogens on 80% of grazing lands in the Napa River
---
The pictures below show the west bank of the Rutherford reach restoration where nearby Honig Winery, Roundpond Winery and Carpy-Conolly ranch and grange vineyards have each converted one to four acres of farmland to wildlife habitat in support of these restoration efforts.