Building Sustainable Communities
Contact Information
Jim Van der Kloot (vanderkloot.james@epa.gov)
312-353-3161
Land Revitalization Coordinator
U.S. EPA Region 5
77 W. Jackson Blvd., SM-7J
Chicago, IL 60604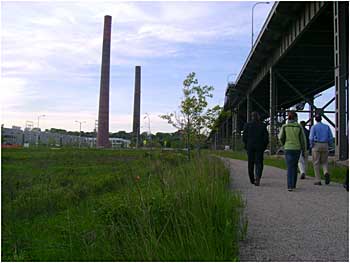 Sustainable communities are places that have a variety of housing and transportation choices. As a result, they tend to have lower transportation costs, reduce air pollution and stormwater runoff, decrease infrastructure costs, preserve historic properties and sensitive lands, save people time in traffic, be more economically resilient and meet market demand for different types of housing at different prices points.
Rural, suburban and urban communities can all use sustainable communities strategies and techniques to invest in healthy, safe and walkable neighborhoods, but these strategies will look different in each place depending on the community's character, context, and needs.
Partnership for Sustainable Communities
EPA joined together with U.S. Department of Housing and Urban Development and U.S. Department of Transportation to help communities improve access to affordable housing, increase transportation options, and lower transportation costs while protecting the environment.
These pilot projects provide a snapshot of ongoing work in Region 5:
Related Topics