You are here: EPA Home
Hanalei Bay Watershed
Hanalei Bay Watershed - Kaua'i, Hawai'i
On this page:
Watershed Information
The Hanalei Bay area offers unique and significant cultural, recreational, biological, and economic resources.  The coral reef ecosystem as well as the internationally-famous beaches and world-class surfing and paddling opportunities are all critically dependent upon water quality and a healthy watershed.
The Hanalei Bay watershed is a 33.1 square-mile area draining to Hanalei Bay along the north shore of Kaua'i, including the Hanalei River, Waioli Stream, Waipa Stream, Waikoko Stream, and the Waileia/Puupoa Stream watersheds. The Hanalei River watershed is the largest of these watersheds (23.6 square miles), making up about 73 percent of the Hanalei Bay drainage area. The Waioli Stream watershed is the second largest drainage area with nearly 5.5 square miles, followed by the 2.5 square-mile Waipa Stream watershed, the 0.8 square mile Waileia/Puupoa Stream watershed, and the 0.7 square-mile Waikoko Stream watershed.
Hanalei Bay Watershed - Google Maps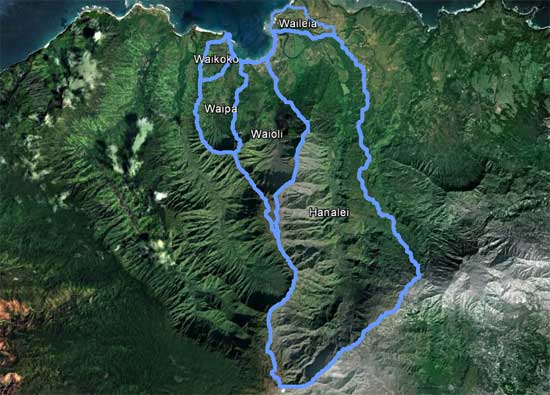 The watershed originates at the summit of Mount Wai'ale'ale, which receives an average of 400 inches of rainfall per year, while the coastal areas receive less than 100 inches of rainfall per year. Agriculture, grassland, and urban areas also drain into the Hanalei River as well as the other streams discharging to Hanalei Bay. In addition, the 16-mile Hanalei River, which was designated an American Heritage River in 1998, passes through the Hanalei National Wildlife Refuge (NWR) managed by the U.S. Fish and Wildlife Service, which includes taro pondfield agriculture and several bird impoundments. Urban areas within these watersheds, comprising less than 1% of the land area, are primarily located in Hanalei town center along the Kuhio Highway.
---
Water Quality Issues

Contacts
Hudson Slay
(slay.hudson@epa.gov)
U.S. EPA Region 9 Pacific Islands Contact Office
808-541-2717
Tina Yin (yin.christina@epa.gov)
Regional NPS Coordinator
U.S. EPA Region 9
415-972-3579
The predominant water quality problems in the Hanalei Bay watersheds are related to bacteria, sediment, and, to a lesser degree, nutrients. Where monitoring and evaluation information indicate waters do not meet state water quality standards, these waters are included in the State's Clean Water Act, Section 303(d) list of impaired waters. Water quality impairments identified for the Hanalei Bay watersheds include:
Hanalei River: stream (entire network) for Enterococci and turbidity; stream estuary for Enterococci and turbidity
Hanalei Bay: Enterococci and turbidity
Waioli: stream estuary for turbidity
Waipa: stream for turbidity; stream estuary for turbidity
Waikoko: stream estuary for turbidity
Sediment concentrations which affect turbidity are associated with anthropogenic activities, including the introduction of feral livestock and agricultural and construction activities, as well as natural conditions, such as high precipitation and steep slopes. Sources of bacteria include natural sources such aquatic and terrestrial wildlife, and anthropogenic sources such as cesspools, septic tanks, sewage disposal from boats along the coastline, trash, and pet waste. Nutrient loadings are associated with sediment, wildlife, fertilizers, and sewage.
---
Watershed Planning and Implementation Activities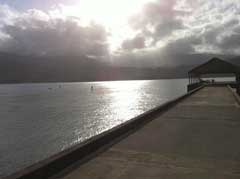 In 1998, the Hanalei River was designated an American Heritage River. The local community used consensus-based decision making to develop a five-year Watershed Action Plan guided by the traditional Hawaiian Ahupua'a land management concept. A number of projects were successfully implemented, including extensive water quality monitoring by citizens.
The Hanalei Watershed Hui and partners in the Coral Reef Local Action Strategy (part of the U.S. Coral Reef Task Force's effort to address critical threats to and protect coral reefs) have been continually building on these efforts to address numerous issues affecting watershed health, particularly sediment control, wastewater treatment, and monitoring and evaluation. These efforts were supported in part by an EPA Targeted Watershed Initiative grant (completed in 2005) and included implementation efforts to addressed erosion from mountain access trails, nutrient and sediment loading from taro pondfield agriculture, and wastewater system upgrades in strategic locations.
A workshop was held in 2007 to share and review the scientific and management efforts undertaken to date in the Hanalei watersheds (see http://pubs.usgs.gov/of/2007/1219/) .
The Hawaii Department of Health (DOH) finalized a Total Maximum Daily Load (TMDL) for each of the streams flowing to Hanalei Bay in 2008 (PDF) (warning: large file may download slowly).  The TMDL provides pollutant loading targets for sediment, bacteria and nutrients required for these streams to meet state water quality standards. A TMDL for the Hanalei Bay embayment was approved April 4, 2012, and recognizes that most pollutants arrive in the embayment from non-point source pollution of the streams and estuaries. Implementing these sediment, nutrient and bacteria TMDLs should eventually result in the attainment of water quality criteria in both the estuaries and the embayment.
The Hanalei Watershed Hui is currently working on development of an updated watershed plan to identify specific implementation needs and commitments required to address water quality problems and implement the Total Maximum Daily Loads. A final plan is anticipated in early 2013.
EPA is working to close existing large capacity cesspools, which are potential sources of groundwater and coastal pollution, in Hanalei and throughout the state.  EPA regulations require all existing large capacity cesspools be closed and replaced with an alternative wastewater system (see Cesspools in Hawaii).
---
Monitoring/Evaluation
The Hawaii DOH is currently conducting monitoring (via contract with Kauai Chapter, Surfrider Foundation) to assess and identify potential water quality changes since the development of the TMDL.  The new data will help target implementation activities necessary to reduce pollutant loads and improve water quality.
---
Partners & Contact Info
All links in this section exit EPA.
You will need Adobe Reader to view some of the files on this page. See
EPA's PDF page
to learn more about PDF, and for a link to the free Adobe Reader.