Public Involvement Network News
Note: EPA no longer updates this information, but it may be useful as a reference or resource.
---
White House Solicits Public Comments Online for Open Government Initiative

Developed by Catie Ferrara, NCEI Intern
As one of his first orders of business in January 2009, President Obama promised to open up the government, telling agencies to give all Americans the ability to comment on and discuss public policy through technologies like Internet message boards. In May, the White House initiated a three-phase project aimed at creating an open governance policy from Americans' ideas and concerns. This Open Government Initiative operated under the central question, "How can we strengthen our democracy and promote efficiency and effectiveness by making government more transparent, participatory, and collaborative?"
To launch Phase I, the brainstorming process, the White House and the National Academy of Public Administration (NAPA) set up an online forum to ask for ideas on how to realize the President's open government pledge. The brainstorm generated over four thousand ideas between May 21 and June 26 (because of its popularity, NAPA kept the Phase I website open through Phase II). Visitors could vote for or against ideas by clicking a thumbs-up or thumbs-down button, which assisted in prioritization for Phase II.
While most of the suggestions – such as installing webcams to publicize activities in federal offices and providing a list of people who meet with the President – were closely related to the topic of open governance, brainstorm collaborators also contributed opinions on unconventional topics such as U.F.O. information disclosure and verification of President Obama's birth certificate.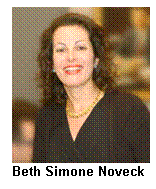 "Even for people who want to talk about U.F.O.'s or the Kennedy assassination, we have created a forum for people to have a conversation with each other, and potentially to go off and organize and develop this further," Beth Simone Noveck, President Obama's deputy chief technology officer for open government, told the New York Times. Noveck is a New York Law School professor with an expertise in the impact of technology on legal and political institutions.
Phase II of the initiative opened up public discussion on June 3. The goal of this phase was to let Americans address the broad topics that would require more detailed thoughts and proposals before being incorporated into policies. Based on findings from Phase I, Noveck suggested transparency principals as the starting topic for Phase II, inviting comments to questions like, "Is it better for an agency to publish some data faster, possibly at the expense of structure and comprehensiveness, or to wait longer for a more complete roll-out?"
In order to stay on topic and produce helpful discussions during the second phase, the White House filtered some off-topic comments. On the Office of Science & Technology Policy Blog, Noveck summarized significant and repeated ideas, and then invited comments on them. If visitors found topics to be off-topic, they could report them to request they be sent to a separate part of the website.
On June 22, the White House began Phase III, aimed at collaboratively drafting policies, by creating a wiki. The basis for the popular online encyclopedia Wikipedia, a wiki is an Internet tool that allows members of the public to contribute to and edit website texts. At the open government wiki, visitors submitted and edited contributions for the open government directive.
The public was able to make draft contributions until July 3, and vote until July 6. During that time, the website received over 300 versions of various policies under the categories of Transparency, Participation, and Collaboration. Over 2,250 ratings established a "Final Version" for each of 16 policy issues.
Next, the Office of Management and Budget will synthesize the public comments with the views of agency officials and White House staff, creating a formal draft of the Open Government Directive. After another period for public comment, the directive will be released and become federal agencies' guiding principles for transparency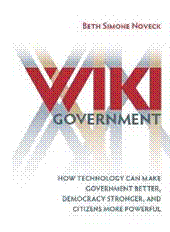 Noveck's confidence in this process's potential to improve government is based on her extensive experience in this field. As a professor, Noveck established the Democracy Design Workshop, a collaborative "do tank," where students and faculty across institutions work together to develop legal and software codes that foster open, transparent, and collaborative ways of learning, working, and governing.
For one project, Noveck worked with the United States Patent Office to test a system that invited the public to help evaluate patent applications; the public comments helped speed up the examination process for large companies, like I.B.M. and General Electric, which apply for a lot of patents. Earlier this year, Brookings Institution Press published Noveck's book Wiki Government: How Technology Can Make Government Better, Democracy Stronger, and Citizens More Powerful.
One transparency topic, declassification of national security information, merited further discussion on the Office of Science & Technology Policy blog. Between July 1 and 19, the Public Interest Declassification Board (PIDB) advisory committee solicited public comments on declassification policy, a National Declassification Center, classification policy, and technology issues and challenges at the Office of Science & Technology Policy Blog.
PIDB members and support staff posed questions like "How can the government make the declassification process more transparent?" and posted periodic summaries of the public responses. This comment period is the PIDB's first stage in obtaining public recommendations, ordered by President Obama on May 27, for revisions to Executive Order 12958, as amended, "Classified National Security Information." E.O. 12950, established by President Clinton in 1995 and later amended by Presidents Clinton and Bush, defines current standards for national security information classification.
Information in this article came from:
Dotgov Buzz – USA.gov
Saul Hansell, New York Times article
New York Law School
The White House (Office of Science & Technology Policy Blog, The Open Government Wiki, NAPA Open Government Dialogue, Information on Open Government)