Public Involvement Network News
Note: EPA no longer updates this information, but it may be useful as a reference or resource.
---
Web-Based Dialogue: What is The Next Frontier?
By Authors: Tom Beierle, Ross & Associates Environmental Consulting, Laurie Maak, WestEd, and Sally Hedman, WestEd
Contributors: Don Greenstein - DLG Conflict Management Systems, Nicholas Dewar – CirclePoint, and Patricia Bonner - USEPA
President Obama has directed heads of executive departments and agencies to "… work together to ensure the public trust and establish a system of transparency, public participation, and collaboration." Key to accomplishing this goal is using the Internet to broaden informed public engagement. Some challenges to achieving this "Next Frontier" include helping citizens inform themselves about the issue under discussion; tapping diverse perspectives; managing the volume of ideas and information; recognizing and responding to input; and maintaining communication to continue to inform and evolve the web-based public engagement process.
To meet the challenges of the Next Frontier, we envision bringing together a broad spectrum of stakeholders—informed by experts and practitioners—to identify successful practices and define realistic and ideal functions and expectations designed to achieve host agency goals. Through this discovery process, a foundation for developing the Next Frontier—based on stakeholder needs—will emerge. The process will generate the next steps to create an engagement platform and strategy that will be useful to both participants and conveners.
The Next Frontier WebDialogue was an initial step to begin this important process. We used WestEd's WebDialogues platform, which, for over six years, has been used to successfully convene stakeholders, members of the public, and policy makers. In each case, participants learned about, discussed, and provided input regarding key policy issues in state, national, and international dialogues.
In July 2009, twenty individuals with experience hosting, developing, facilitating, and/or researching web-based public engagement participated in a week-long WebDialogue entitled, "Web–based Dialogue: What is the Next Frontier?" The discussion focused on "Aspects of GREAT web-based engagement" to guide the group's reflections on what works, unanswered questions, and promising new strategies. The goal was to identify the diverse needs of national and state agencies and organizations as we evolve web-based engagements.
This paper captures the essence of the ideas exchanged in six discussions:
Blue sky description: What does virtual communication, which effectively supports public engagement, look like? What are examples of important aspects?
Usefulness for policy makers: What are the needs of policy makers? How can we structure and produce information that is useful to policy makers (mining info/polls, etc.)?
Appropriate contexts and topics: What are the most appropriate topics and contexts for web-based engagement?
Types of web-based engagement: What are the types of web-based engagements (e.g., public comment, foster dialogue, build consensus, and cultivate deliberation)? What do we know about effective facilitation of each? How can these and other goals be achieved?
Dialogue with very large numbers of participants: What are the challenges and possible strategies that can support dialogues with very large numbers of participants?
Where do we go from here? How can we capture the ideas shared, advance the practice, and find opportunities to implement more dialogues?
We hope the ideas in this summary paper provide useful guidance for our collective work toward realizing this very important Next Frontier. We welcome additional input on the ideas and concepts presented in this report. Laurie Maak, WebDialogues Developer & Producer, WestEd, lmaak@wested.org
Introduction
This document describes online dialogues from the perspective of practitioners (organizers, facilitators, and hosts) and identifies best practices developed from their experience with online dialogues over several years. It is motivated by a sense that this approach to public involvement is promising, in need of concise description, and ripe for an articulation of what works and what still needs to be better understood. The initial content for this document was developed through a WebDialogue among practitioners and refined through collaborative authorship using a wiki.
Online dialogues are a structured approach for engaging participants in topical written discussions. They typically involve more people in more places and from more walks of life than could be practically brought together for face-to-face interactions. Conversations are generally through written messages, linked together through threads of related content to which participants contribute over a series of days or weeks.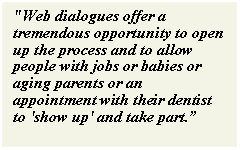 Online dialogues provide a number of potential advantages compared to in-person processes, including:
The opportunity to tap the ideas and experiences of a large, and potentially diverse, group in the process of crafting rules, legislation, or programs.
Access for people who would not be able to attend collaborative forums in person (e.g., those far from Washington, D.C. or a state capital).
Access to a broader variety of disciplines and people with busy schedules—including parents, business people, faculty, students, nurses, and others—rather than paid lobbyists.
A range of voices and points of view to add perspectives beyond the "extremes" that often characterize in-person processes (e.g., public hearings) and that can help mitigate the fault lines that often develop during in-person meetings.
More intensive involvement, supported by background material and iterative engagement, over a period of time with other participants.
The ability for policymakers to ask questions and discuss topics directly with participants—and the opportunity for citizens to engage directly with government and high-level government officials.
The opportunity to delve deep into a subject and share details and specific research supporting one's thinking on a topic.
Online Dialogue Process

What Are Best Practices for Online Dialogues?
There is enough experience with online dialogues that a body of "best practices" is beginning to emerge. This section describes key lessons identified by practitioners—starting with up-front planning, moving into dialogue facilitation, and finally describing how dialogue content affects policy.
Establish a clear purpose––and design the dialogue to accomplish it
The more clearly the purpose of the dialogue is articulated by sponsors and understood by participants, the more successful it will be. Some practitioners feel that establishing a clear purpose is the most important—and most challenging—aspect of dialogue planning. Key questions are:
What is the issue we are seeking to resolve?
What information do hosts/organizers want to address or receive input on from participants?
What should participants get out of the dialogue?
How will information contributed to the dialogue be used and how will participants be informed?
How can participants most effectively use the dialogue to affect policy outcomes?
Who needs to be involved in the engagement and how can they be effectively reached?
Hosts—the agencies or other organizations that initiate and sponsor a dialogue—play a critical role in establishing and communicating its purpose. They should begin with an authentic desire to hear from the public and develop a clear statement regarding what difference the input will make. They should plan to report back to participants on what they learned and keep participants in the loop as decisions, policy, or programs evolve. Establishing a compelling purpose may require a "pre-process" with hosts before the dialogue begins.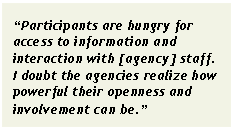 Some practitioners feel that dialogues are most appropriate for getting a better understanding of people's knowledge about an issue and a sense of what they care about rather than measuring "public opinion." Dialogues can then surface policy alternatives, trade-offs, innovative solutions, and implementation challenges. By promoting and co-building common knowledge, a higher quality public opinion may emerge.

Just like in-person processes, online dialogues can be designed to accomplish different purposes—from educating and informing participants, to drawing out public knowledge, to influencing decisions. The International Association for Public Participation defines this spectrum as ranging across the following activities: inform, consult, involve, collaborate, and empower.
Although online participation is distinctly different from in-person engagement, a typology of in-person processes can be useful for understanding what online dialogues can be used for, such as:
Focus Groups. Essentially small-group research interviews that provide a reading of individual and a group's state of mind but do not, by themselves, help them develop their thinking very much.
Stakeholder Dialogues. Participants are peers and citizens who voluntarily contribute their time and ideas; these sessions can be homogeneous groups, or they can be more eclectic, with diverse stakeholders. The idea is to engage people in productive dialogue about a problem or initiative and to elicit ideas about how to address the subject. The dialogue may include opportunities for participants to learn about the problem and develop a better understanding of the perspectives of other stakeholders. The dialogue may also produce changes in the participants' perspectives that reflect increased knowledge of the subject and better understanding of other stakeholders' perspectives.
Community Conversations: Opportunities to engage a broad cross-section of a community in a dialogue, including specific stakeholders and average citizens. These are large-scale civic events. "Community" can be defined very narrowly or broadly based on the topic(s) involved.
An articulation of purpose helps inform key design choices, such as who should participate. For example, a dialogue focusing on exploring divergent views on a given topic would ideally involve a large number of people with significant differences in level of subject expertise and experience, while a deliberative dialogue that seeks serious insight and input may focus on involving a select number of people with varied but substantial expertise and experience.
Actively market the dialogue and recruit people to participate

Recruiting for dialogues is most successful when hosts and others involved in the dialogue actively tap multiple local, regional, national, and international communications networks to provide information about the dialogue and recruit participants. This active recruitment helps inform those with the most potential interest about the topic/dialogue and helps bring in participants who are knowledgeable and interested in the topic.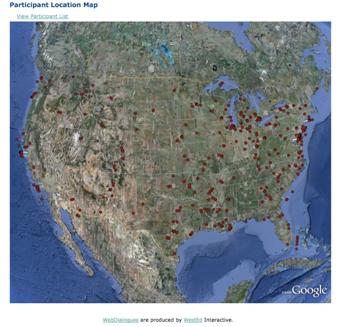 Develop a compelling and constructive agenda
A well-framed agenda clearly maps out topics and key discussion points and guides participants' involvement throughout the process. To make the agenda responsive to the interests of those participating, dialogue participants must be involved in framing it from the beginning—or they may determine the agenda for the last few days of a dialogue based on discussion earlier in the dialogue. This helps build trust for all who are engaged in the process.
For public dialogues, agendas should begin with broad and easily understood concepts that can then be deconstructed as the dialogue proceeds. Baseline polls at the commencement of a dialogue are useful for helping the organizers evaluate basic knowledge and—when combined with a poll at the end—assess how much people learned or revised their thinking as a result of the dialogue.
Early in a dialogue, the agenda should encourage participants to provide specific examples, experiences, and insights that may serve as a basis of exploration and analysis. Supporting statements with research and experience should be encouraged in online engagements as ways to better understand and experience a process by participants new to the ideas being presented. "Hooks" in the beginning can get people excited about sharing their experiences and can help make them aware that what they say and do in the dialogue will influence and impact others involved. As the dialogue comes to a close, techniques such as summaries, polling, and user-defined discussion topics can be used to construct a new commonly-built and synthesized outcome.
Use effective facilitation techniques to help people participate and keep the dialogue focused
Active facilitation is an important element of online dialogues. Facilitation online, however, differs significantly from facilitation of face-to-face meetings. Some basic values apply to both online and in-person facilitation (e.g., clarity, neutrality), and facilitation has the same fundamental objective (i.e., help participants be effective, make it safe for all involved). There are, however, some unique challenges to online facilitation. These include:
Many conversations occurring at the same time with large numbers of people.
Long time periods (dialogues can run from a few days to a few weeks) and participation from early morning until late at night, especially when multiple time zones are involved.
A more challenging environment to encourage group norms around ground rules, cultural differences, and behaviors.
A limited ability to "balance" participation by encouraging more quiet participants and asking those with more active voices to give others a chance to be heard.
The potential to attract dominating numbers of activists or people with a need to be heard regularly and who take the dialogue off topic to cover their own agendas.
Experience with facilitating online dialogues has led to some useful techniques, such as:
Doing as much as possible to support effective self-regulation by participants. The impact of a facilitator is more limited online. Hence, more effort needs to go into designing the process to ensure that participants can play a significant role in regulating themselves and other participants.
Having multiple facilitators or empowering other dialogue partners (e.g., subject matter experts, summarizers, monitors) to "facilitate" through their roles and activities in the dialogue. These roles need to be explicit, well understood, and built into the structure of the process.
Actively encouraging basic norms, such as respect, that are often taken for granted during in-person forums.
If needed, contacting participants by email and telephone to keep the conversation on-track and to discuss ground rules with "difficult" participants. These interactions can "humanize" the interaction between the facilitator and participants.
Creating norms for the process agreed to at the outset by all participants with known consequences for behaviors that are deviant from the norm.
When a person or a group of people lead the discussion off the main topic, bringing the group or individuals back on topic expeditiously. Once others follow the conversation off topic, it is very difficult to redirect.
Maintaining the option to warn participants and potentially delete their comments if they are inappropriate in nature or language. Some dialogues allow comments to be posted only after a review by a moderator or facilitator. (1)
Getting a commitment to the rules of engagement when participants register. This helps participants self-regulate and also empowers a facilitator to cut off inappropriate comments or redirect the discussion.
Make it easy for people to get started and stay focused on the topic
In many dialogues, a few people post many comments and many people post only a few (or no) comments. A persistent challenge is encouraging the silent participants to contribute to the dialogue and not allowing the extremely active participants to control the content. A number of techniques can help, including:
"Seed" the conversation to make people more comfortable about contributing and to provide an example of how to participate for those that are new to online dialogues. Conversations can be seeded through questions or opening remarks that participants are asked to make during registration or by having a core team, hosts, or even local celebrities, topical experts, or leaders start a couple of discussion threads.

Express a clear policy question to which the sponsor or host really is interested in the answers that might emerge.
Begin with "safe" questions that people can answer based on their own experiences or feelings and that address the policy question at hand. These kinds of questions make people feel they possess valuable information based on their own experience. Subsequent follow-up questions––presented by the facilitator, hosts, or others––can probe for more detail and hone in on specifics related to the overall topic and purpose of the dialogue.
Provide a "backgrounder" that explains key issues and educates people about the dialogue topic. A backgrounder can be in the form of a short summary document, a library of background materials, an introductory video, or other format (questionnaire, multiple choice baseline exam, etc.).
Deliver short daily summaries of each day's discussions that allow people to stay up-to-date and feel that the dialogue has not "passed them by" if they start late, miss a few days, or simply don't have time to read all the posts.
Establish short- and long-range goals for the dialogue that can be updated and revised as needed and as the dialogue progresses.
Communicate at a level that allows all participants to easily understand the online content and reinforce this from the beginning to the end of the dialogue. Government officials, scientists, and technical experts often communicate in a way much different from community participants. Leaders of the dialogue as well as facilitators may need to translate and/or monitor messages to make certain that all involved can understand the ideas being communicated. For example, all acronyms need to be defined.
Ensure worthy content with lasting value
A key challenge for online dialogues—and many in-person processes for that matter—is capturing contributions from hundreds of contributions in a concise way that has lasting value. Some best practices include:
Articulate a clear intent and purpose for the dialogue that helps focus contributions. One practitioner warns that "a vague and nebulous idea can lead to a profound realization but hundreds and thousands of vague and nebulous ideas tossed together … will likely just produce a large database of vague and nebulous ideas." When host agencies have a clearly defined goal for their dialogues, they are more likely to receive focused messages that relate to the goal.
Work toward a defined deliverable such as a white paper or plan of action to crystallize a "product" for the benefit of the group and to carry the knowledge to others interested in or working on the topic.
Prepare summaries that highlight key points that reflect the perspectives of the participants.
Ensure an active and constructive role for dialogue "hosts"
Dialogue hosts play a key role in identifying the purpose of the dialogue and focusing it on a clear topic. When hosts are elected representatives or agency personnel, their active participation in the dialogue provides a unique opportunity for direct interactions between citizens and their government. Hosts should also strive (or be encouraged) to play a number of other roles, including:
Contributing to the development of the agenda and providing documents to a dialogue library or other repository for background materials.
Actively marketing the dialogue and recruiting participation through mailing lists, listservs, and other networks of communities of interest.
Providing a high-level welcome and encouragement at the beginning of the dialogue that describes what the host hopes to gain from the dialogue and what the host hopes participants will gain.
Recruiting staff from host agencies and content experts to participate as hosts and expert panelists and to answer questions as they come up.
Reading messages as the online dialogue evolves and coding or categorizing them for later reference.
Summarizing what the host has "heard" from participants in the dialogue and communicating back to them how their information will be used.
Correcting misinformation as soon as it is posted so it does not become accepted or even assumed to be endorsed.
Make sure participants are being heard—and that they know it
Most people take the time to participate in online dialogues and other participatory forums because they care about the world they live in and the topic at issue—they also want to make a difference. Dialogue planners and hosts need to make sure that people are rewarded for their participation by letting them know they are being heard and legitimately considering their input as part of decision-making. Best practices include:
Active participation by hosts—especially when it is a government body that will be developing policy related to the dialogue topic.
Follow the dialogue with a message from the hosts describing what they heard and how they plan to use the information. Ideally, hosts should explain how they plan to use information at the outset of the dialogue before the conversation begins.
Continue communicating with participants after the dialogue (e.g., by sending out information about programs, rules, guidance or other policy, and documents informed by the dialogue), and sharing outcomes and final materials as they are revised and finalized. Personal emails and print letters from the highest-level officials involved are meaningful to participants.
What Are Key Remaining Challenges and Questions About Online Dialogues?
Although much has been learned about how to make online dialogues effective, there are still remaining challenges to be addressed through refinements to dialogue design, facilitation, and other techniques. Key challenges include:
Different levels of engagement—while some people are reluctant to post, some are "chomping at the bit" to get discussions going and can deluge other participants with overwhelming numbers of messages.
Promoting effective interactions when dealing with participant populations having significantly different levels of expertise, experience, and expectation. When dialogues are open and inclusive, diversity can result in a much more interesting dialogue that produces a rich and varied knowledge product. However, in other instances, a great disparity in threshold knowledge, experience, and expectation can result in a dialogue that is less effective and also more frustrating to participants. Those with a greater threshold knowledge who hope to focus on tangible outcomes may become frustrated with those having a more casual interest (and the casual participants may feel intimated by those with more knowledge and experience).
Involving people with limited Internet access or other cultural, social, or psychological constraints on participating. (In one dialogue the hosts heard that someone had no access to a computer, and they arranged to receive his faxes, post them, and get the related responses to him for several days.)
Sorting and organizing the wealth of contributions in an efficient way so that participants and sponsors can find and participate in the parts of the dialogue that are most relevant to them. In some cases, the "noise" of irrelevant postings can eclipse the "signal" of on-topic content.
Balancing the need to keep conversations focused while also not limiting insightful conversations or unique ideas that are "outside of the box."
Helping participants stay current with the evolving dialogue conversations that can run over hundreds of messages posted each day.
Overcoming some well-intentioned, but limiting government rules, such as the Paperwork Reduction Act's limits on asking questions (2) of participants or asking them to take surveys as part of the dialogue process.
Where Do We Go From Here?
The evolution of online dialogues has largely been driven by a process of experimentation, evaluation, and "learning by doing." Practitioners have identified a number of new ideas to try and refine in future dialogues. These include:
Holding a "proxy dialogue" where a random sample of a much larger group of individuals is selected to actively write messages to a dialogue while the remaining group of "observers" could follow the discussion and submit "fresh perspectives" to the facilitators for review and inclusion in the discussion. Alternatively, the observers could participate in polls (via the web or cell phones) the results of which are discussed in the dialogue.
Allowing people to contribute in ways other than posting messages. Ideas include adding an "I agree" feature or other ways of tagging others' messages to show agreement, disagreement, interest, support, etc. These tags could also help participants find certain types of content or conversations in the dialogue (e.g., highlighting threads that are particularly active or interesting).
Using a dialogue as one step in writing a publication (or "launching" a new publication). The dialogue could bring together researchers, authors, subject matter experts, and an array of experiences to inform and test ideas.
Combining dialogues with other online processes, such as a three-step process of using a dialogue to brainstorm ideas, using online polling (or some similar tool) to focus the conversation, and then using a wiki for the group to collaboratively develop a written product.3
Dividing a large dialogue up into "subject tribes," in which people are invited or assigned to one or two specific subjects to explore and then bring insights back to the larger group.
Trying an online dialogue with a video component so people communicating in real time can be in many different locations.
Utilizing dialogues at various stages of the legislative or policymaking process. For example, using online dialogues to focus on critical issues that might be introduced in committees or as bills prior to actual legislative sessions.
Conclusion
It is clear that online dialogues offer a significantly different approach to public and stakeholder engagement from tried and true in-person approaches. Features such as the potential to involve a very large number of people, the ability to engage people from anywhere in the world, and the seamless incorporation of other electronic techniques, such as instant polling, can make online dialogues exciting for hosts, facilitators, and participants. These same features also create new challenges for making online dialogues effective and rewarding for those involved. This document has outlined an emerging set of best practices, some remaining challenges, and an agenda for further inquiry. The time is ripe for further implementation of online dialogues and a continuing commitment by practitioners to hone skills, experiment with new techniques, and offer participants a valuable experience that contributes to the responsiveness and transparency of public policy.
Footnotes:
1. It is important to recognize that the First Amendment limits the ability of Federal organizations to censor messages.
2. Federal organizations cannot ask questions unless they have been cleared through the Office of Management and Budget under the Paperwork Reduction Act. Participants can instead be invited to respond to statements.