Collaboration and Partnerships
Note: EPA no longer updates this information, but it may be useful as a reference or resource.
---
Sustainable Management of the Pocono Creek Watershed
EPA Region 3 - Philadelphia
Geographic location or area of activity: Monroe County, PA
Description of activity: This project, initiated in November, 2004, is funded by the EPA ORD Science and Technology Network for Sustainability. Pocono Creek is a high quality wild trout stream whose watershed is threatened by a high rate of development with its accompanying land use change. The project will evaluate the effects of growth and land use change on ground water, stream flow and the effect of those flow changes on the aquatic ecology ( in particular trout) of Pocono Creek. A ground water model and a hydrologic model of the Pocono Creek watershed were completed in 2006. During 2007, a "hydroecological integrity assessment" of Pocono Creek was completed and work was initiated to link that assessment to trout populations.

The technical tools described above have been and are currently being used to assess both the current impact of development as well as the future impact of projected development on Pocono Creek ground water and stream flows and how those flows impact Pocono Creek ecology and trout populations. Based on this assessment, management recommendations to protect the Pocono Creek's ecological integrity and trout populations will be developed. This work will be completed by June, 2008.
The results and recommendations from this study will be communicated to the Pocono Creek watershed stakeholders with an education, outreach and community involvement initiative during 2008, which includes a "trout art" community event during May and June to highlight the importance of trout to the community. A particular challenge is that many homes are owned by people who either commute long distances or live in Monroe County only on the weekends.
Interagency partners: EPA Region 3, EPA ORD-Cincinnati, Delaware River Basin Commission, USGS-Fort Collins, Colorado Science Center, DOI - USGS PA Water Science Office, PA Fish and Boat Commission.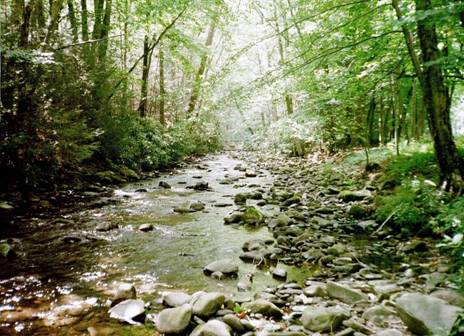 Pocono Creek
Local partners : Monroe County Conservation District, Monroe County Planning Commission, Brodhead Watershed Association, Pocono Mountain Visitors Bureau, Pocono Arts Council, East Stroudsburg University.
Activity URLs:
EPA Collaborative Science & Technology Network for Sustainability: Presentations & Abstracts "Sustainable Watershed Management in the Delaware River Basin"
https://epa.gov/ncer/publications/workshop/ and Delaware River Basin Commission http://www.state.nj.us/drbc/pocono.htm