Public Involvement Network News
Note: EPA no longer updates this information, but it may be useful as a reference or resource.
---
Making a Difference in the Community: The Superfund Job Training Initiative at Savannah River Superfund Site
By Karen Martin, Superfund
The Savannah River Site Superfund Job Training Initiative (SRS SuperJTI) is a job training program that provided career development opportunities for residents living near the Savannah River site in south-central South Carolina and eastern Georgia. Through a unique partnership with the Department of Energy, the community-based Imani Group, Savannah River Nuclear Solutions, Aiken Technical College, Parsons, and Friendship Baptist Church, nineteen graduates of this SuperJTI project received the training and learned the skills that helped them land jobs with the site cleanup contractor. EPA's goal is to help the community create job opportunities and partnerships that remain long after the site's cleanup has been completed.
Through SuperJTI, EPA sponsors and supports job training programs in communities affected by nearby Superfund sites. SuperJTI provides local residents with extensive classroom instruction and hands-on work experience. This approach provides trainees basic technical skills to work at Superfund sites, construction projects, or hazardous waste processing companies. Trainees also learn the basic life skills needed to remain employable.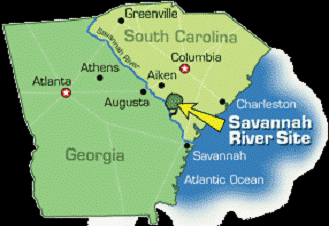 One of the keys to a successful SuperJTI project is to recruit candidates for the training who will have a high likelihood of successfully completing the training, and subsequently have a high likelihood of being hired by a site cleanup contractor. Because there was a high unemployment rate in the area, the Savannah River SuperJTI team developed an intensive recruitment process. Over 450 people applied for 21 student positions. The trainees chosen represented the diverse demographics of the area. Seven women and 14 men were selected ranging in age from 20 to 56. Some of the trainees did not have a high school diploma, while others had college degrees. Two thirds of the students came from homes with annual incomes under $25,000.
From May 26, 2009 through June 22, 2009, the students received Hazardous Waste Operations Management and Emergency Response training, as well as computer skills, CPR and life skills training. Twenty of the 21 students graduated from the program. Sixteen graduates were hired by the Savannah River Site contractor, and started in operators and material handler positions on August 16, 2009. Three graduates are expected to be hired by the site contractor upon successful completion of their GED exam. This job training experience was life changing for many of the graduates, including Kera Woods who said, "We struggled, we had to make sacrifices, now we can open up opportunities for our families and other people in our communities."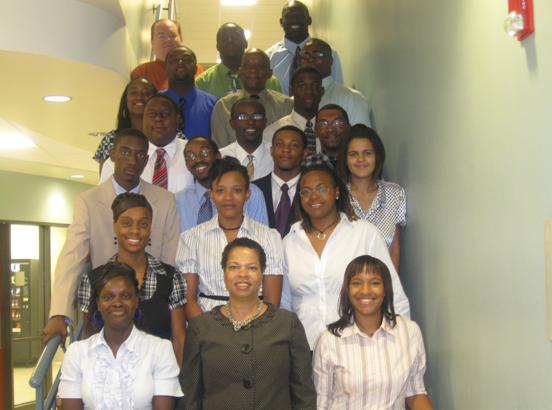 SuperJTI Graduates and Rev. Brendolyn Jenkins of the Imani Group
The Superfund Program sees the Savannah River Site SuperJTI as the model for conducting future SuperJTIs around the country. The Savannah River Site SuperJTI is the first job training initiative conducted at a federal facility. As a result of the success of the SRS SuperJTI, the community, DOE, and EPA are excited and engaged in developing another round of the initiative for FY2010. The Savannah River Site SuperJTI project was made possible by the dedicated work of the following individuals: Kyle Bryant (Region 4/Superfund), Carolyn Haugabook (Region 4/Superfund), Karen L. Martin (Headquarters/OSWER/OSRTI) and Robert H. Pope (Region 4/Superfund, Site Manager).
The Savannah River Site SuperJTI was selected as the People's Choice Award poster presentation winner at EPA's 11th Community Involvement Training Conference held August 18-20, 2009, in Seattle, Washington. This dynamic conference brought together more than 400 people from EPA and its federal, state, tribal, and local agency partners who plan and implement environmental community involvement, partnership, stewardship, outreach and education programs. Poster presentations on specific projects and activities were displayed and highlighted during the conference. Poster authors interacted with participants to answer questions and provide additional information about the project or activity they presented.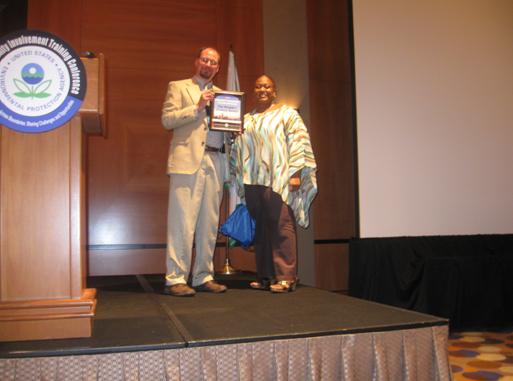 Jeff Phillip, Region 10 Community Involvement Manager, presenting the People's Choice Award to Karen L Martin, of the Superfund Program.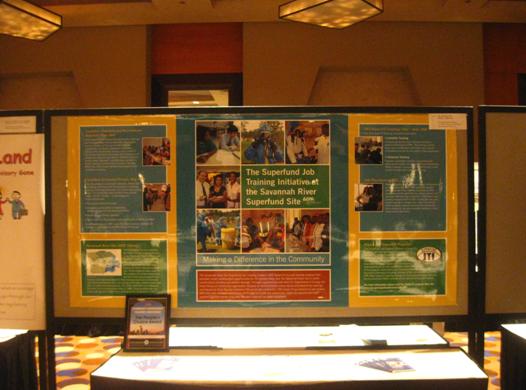 The People's Choice Award winner, the Savannah River Site Superfund Job Training Initiative exhibit