Collaboration and Partnerships
Note: EPA no longer updates this information, but it may be useful as a reference or resource.
---
Sibley Lake Drinking Water Protection Project (LA)
EPA Region 6 - Dallas
Geographic location or area of activity: Natchitoches Parish, Louisiana
Description of activity: Sibley Lake is the drinking water supply for the City of Natchitoches and surrounding area. It is also an important economic and recreational resource that is used extensively for fishing, boating and swimming. The Sibley Lake watershed consists of 40 square miles of urban and rural land and is located within Natchitoches Parish.
Although the lake serves as the source of drinking water for the City of Natchitoches, most of the watershed is outside its jurisdiction. While this is very beneficial circumstance for the lake's water quality in many ways, having most of the watershed area beyond the city's sewer collection infrastructure presents a large problem. The area immediately surrounding the lake has a significant amount of residential development, most of it served by individual sewage treatment systems in varying degrees of repair and operational condition. Some direct discharge of insufficiently treated sewage into the lake is continuing in spite of parish ordinances prohibiting such discharges. Most residences in the entire watershed use on-site individual sewage treatment systems.
Inefficient or defective individual sewage treatment systems present significant nutrient, solids and pathogen loading problems for the lake. Nutrient enrichment (phosphorus and nitrogen) is a primary concern for Sibley Lake, as it results in nuisance algal blooms that cause taste and odor problems, accelerate lake eutrophication and impair water quality for recreational uses. A more rigorous sewage treatment system maintenance program, including the establishment of a program to supplement the cost of replacing and/or repairing malfunctioning systems, would significantly and immediately reduce nutrient and bacterial problems in the lake.
Under this collaborative partnership, the following will be accomplished:
1. Inventory and inspect all on-site sewage treatment systems within a half mile of Sibley Lake, using GPS equipment, and enter all pertinent information on each system into the City's GIS database.
2. Rank all areas based on proximity to the lake and potential threat posed by faulty sewage treatment systems.
3. Make funds available to high risk sewage treatment system owners to supplement the cost of upgrading or replacing their systems. Eventually, additional areas beyond the lake and immediately adjacent to lake tributaries will go through the same process, beginning with areas demonstrating the greatest concentration of individual sewage treatment systems. System owners will be required to provide 50% of the cost. In individual cases, based upon demonstrated financial need, the matching requirement of the system owner may be waived or reduced.
The City will continue to perform inspections of the repaired/replaced systems to ensure continued compliance with operation and maintenance requirements after the project is completed.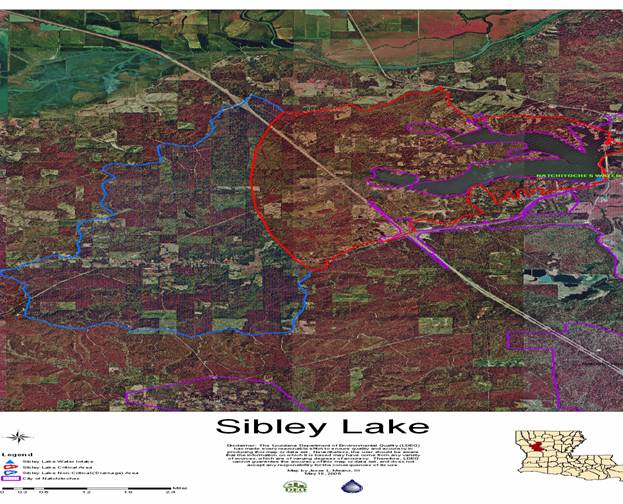 Interagency partners: Louisiana Department of Environmental Quality, Louisiana Department of Health and Hospitals
Local partner: City of Natchitoches