Collaboration and Partnerships
Note: EPA no longer updates this information, but it may be useful as a reference or resource.
---
Strategic Agriculture Initiative [National]
EPA Office of Pesticide Programs and all 10 EPA Regions
Geographic location or area of activity: Nationwide
Description of activity: In 2007, SAI provided technical assistance and $1.5 million in grant funds for projects that:
Increased adoption of sustainable agricultural production practices in partnership with producers, community groups, and research organizations;
Developed field-generated data that contribute to regulatory decisions impacting specialty crop production, worker safety, and the environment; and,
Employed performance measures to ensure projects contribute to improving environmental conditions and human health.
In addition, the SAI team has been a leader in collaborating with the United States Department of Agricuture (USDA) to develop a national database for Integrated Pest Management (IPM) projects which will benefit all stakeholders with an interest in pest management issues.
Example project funded by SAI:
Willamette Valley, Oregon Vegetable Processor Project
NORPAC, a large grower-owned frozen vegetable processor in the Willamette Valley, in partnership with Oregon State University faculty, utilized local and regional monitoring programs to predict fields at high risk to pest damage from the 12 spot beetle and communicated with growers on control decisions and options. A 75% reduction in pounds of carbaryl insecticide applied to fields (>600 pounds of carbaryl not applied) was reported in 2007 on over 10,000 acres. Carbaryl is a broad spectrum insecticide with high aquatic and pollinator toxicity concerns.
Interagency partners: SAI works closely with other federal agencies to assist in implementing the National IPM Roadmap. This includes cooperating with USDA's four Regional IPM Centers, Cooperative State Research, Education, and Extension Service, as well as the Sustainability Agricultural Research and Education program. In addition, the SAI team works closely with multiple federal partners with their role on the National Integrated Pest Management Evaluation Group.
Local partners: SAI coordinators from each of the 10 Regions work closely with State, and local officials on pesticide risk reduction projects and opportunities. These relationships include local companies, researchers, local governments, trade associations, growers, and more.
Activity URL: http://sai.ipm.gov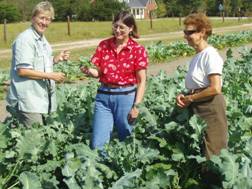 Organic No-till Broccoli