Collaboration and Partnerships
Note: EPA no longer updates this information, but it may be useful as a reference or resource.
---
Rose Township Michigan Superfund Site—Biodiesel Project
EPA Region 5-Chicago
Geographic location or area of activity: Rose Township, MI—50 miles north of Detroit, MI
Description of activity: This multi-year research project will run from 2006-2008 and was developed to investigate the feasibility of using a former Superfund site to grow feedstock for biofuel production. In partnership with Michigan State University, a research team planted two acres of the 110 acre Rose Township Superfund site with soybeans, switch grass, canola, corn and sunflowers. The challenge was to use once contaminated areas without negatively impacting the integrity of the remedy while at the same time ensuring human health and environmental protection.
The Rose Township Project will serve as a model for potential reuse of hundreds of Superfund and Brownfield sites nationwide. The first year demonstrated the viability of using this former Superfund site to produce feedstock crops from biofuel, and EPA has endorsed this research under its Return to Use initiative. The project will help improve the image of modern clean diesel technology as well as address concerns regarding use of food crops for fuels, impacts on land use and deforestation, and the cost effectiveness of renewable fuels when compared to gasoline.
Fuels produced from this research will be tested at the National Biofuels Energy Laboratory located at NextEnergy Center, the headquarters of Michigan's non-profit alternative energy business accelerator program. The project will continue to harvest the crops in 2007 and 2008 and will then assess next steps. The project received second place in the Extraordinary Efforts for the Environment category at Chrysler's 2007 Environmental Leadership Awards.
Interagency Partners: U.S. Environmental Protection Agency Region 5, Superfund Division, Michigan Department of Environmental Quality – Response and Redevelopment Division
Local Partners: Michigan State University, Next Energy Inc., Chrysler LLC
Activity URLs: https://www.epa.gov/superfund/programs/recycle/activities/rtudemos.html,
www.biofuelsjournal.com/articles/daimlerchrysler_michigan_state_researchers_turn_brownfield_site_into_biofuels_research_lab_10_19_2006-38342.html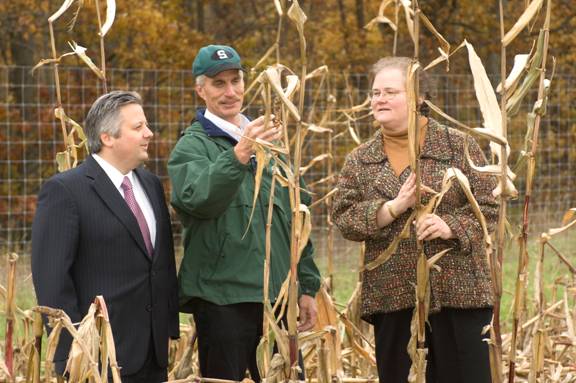 Jim Croce - CEO of NextEnergy, Professor Kurt Thelen - Michigan State University, and Deb Morrissett - Vice President of Regulatory Affairs for Chrysler [left to right], in a planting area at the Rose Township Superfund site.