Public Involvement Network News
Note: EPA no longer updates this information, but it may be useful as a reference or resource.
---
New State-Tribal Collaboration Act To Ensure Cooperation in New Mexico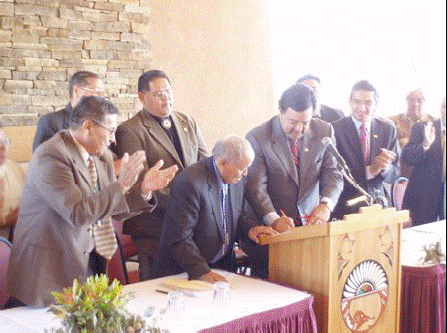 Navajo Nation Vice President Ben Shelly joined New Mexico Governor Bill Richardson and
Senator John Pinto for the signing of the New Mexico State Tribal Collaboration Act.
Sherrick Roanhorse Photo
Governor Bill Richardson signed the New Mexico State Tribal Collaboration Act on March 19, 2009 in Albuquerque, New Mexico at the Indian Pueblo Cultural Center. He was joined by Indian Affairs Secretary Alvin Warren, Senator John Pinto [sponsor of the bill] and tribal leaders from across the state.
"The concept of this new law sets precedence for other states to follow, "Navajo Nation Vice President Ben Shelly said. "The State Tribal Collaboration Act will enable New Mexico's 22 tribes and the State of New Mexico to work more effectively on a government-to-government basis by requiring all state agencies to implement stronger collaboration and communication policies with tribes."
SB 196, the State Tribal Collaboration Act, sponsored by Sen. Pinto, passed its last legislative hurdle in the New Mexico House of Representatives by a vote of 62-0 on March 15.
"The State of New Mexico recognizes all tribes as an equal," Governor Richardson said. "Now we are making it official with a law passed by the New Mexico Legislature."
Among its important provisions, the new law requires the governor to hold an annual summit with tribal leaders. The Act also requires that all cabinet level agencies develop plans to promote cooperation and communication between state and tribal governments and ensures that each of the 34 executive agencies permanently designate tribal liaisons to work directly with tribes
"I am truly moved by the passage of this bill which is a culmination of work that has been done by many people over many years," Sen. John Pinto said. "SB 196 will result in better coordination of resources to address shared priorities as well as higher quality services to our more than 200,000 Native American citizens in New Mexico."
In her floor remarks on March 15, Representative Sandra D. Jeff told members of the House of Representatives, "The State Tribal Collaboration Act will institutionalize a process that this body has long supported. Governor Richardson's consultation policies with tribes have resulted in many successes on education, water, health, and law enforcement issues and this Act will ensure that the spirit of this partnership continues in future administrations."
During the legislative process, Navajo Nation Vice President Shelly provided testimony to several legislative committees to support the bill.
"In the past, many New Mexico state agencies, such as the Department of Transportation, Human Services Department, and State Engineer's Office, have acted and made notable efforts to better coordinate and collaborate with the Navajo Nation and other tribes," Vice President Shelly told the Senate Indian and Cultural Affairs Committee on February 3. "With this act, the relationship between the State of New Mexico and tribes will grow and continue in future administrations, as well as provide greater consistency among state agencies."
"Many of our hard working senators and representatives, especially those who represent Navajo constituents, worked with Senator Pinto and Indian Affairs Secretary
Warren to move this bill forward and I commend all of them for their efforts," the Vice President said. "From the Navajo Nation, Speaker Lawrence T. Morgan, Navajo Nation Council Delegates, and several division heads provided the support needed to move this significant legislation forward and their efforts help set precedence for state and tribal relationships."
This state level Act reinforces President Clinton's 1998 Executive Order 13084, and President Bush's Executive Order 13175 , both entitled "Consultation and Coordination with Indian Tribal Governments". Find them @ http://indian.senate.gov/13084.htm and https://www.epa.gov/fedrgstr/eo/eo13175.htm.
EPA's policies related to Tribes are linked from https://www.epa.gov/tribal/basicinfo/epa-policies.htm
From The Navajo Nation, Office of the President and Vice President news release, March 20, 2009 and April 2 issue of Indigenous People's Issues Today