Public Involvement Network News
Note: EPA no longer updates this information, but it may be useful as a reference or resource.
---
Introducing The Collaboration Corps
Across the country, thirty-nine EPA staff are ready to deliver "Working Together: An Introduction to Collaborative Decision Making." Individuals from partner organizations in South Carolina, Delaware, Smithsonian Institutes, Bureau of Reclamation, National Park Service and the Federal Highways Administration [DOT's Denver office] also earned certification to facilitate the workshop. They were participants in the second Train-the-Trainer event held in Washington October 28-30, 2008.
The first group of 19 certified trainers met in May 2008 in Washington. Several of them have launched training efforts in their organizations, and some have moved into environmental justice and CARE (Community Action for a Renewed Environment)
Several Regional Offices have invested in this effort, ensuring they can offer collaboration training from more than one facilitator.
Region 3 – Brian Nishitani, Helen Duteau, Mary Brewster and Paula Estornell
Region 4 – Cynthia Peurifoy, Veronica Robertson and Karen Bandhauer
Region 5 – John Perrecone and Margaret Millard
Region 6 – David Reazin and Sharon Osowski,
Region 8 – Mike Shanahan, Mary Byrne and Lisa Lloyd
Region 9 – Lori Lewis and David Cooper
Region 10 – Running Grass and Judy Smith
Naraganssett Laboratory has two facilitators: Walt Galloway and Marilyn TenBrink
Three workshop leaders are from Research Triangle Park; two from OAQPS – Candace Carraway and Warren Johnson, and one from ORD – Ken Elstein.
Headquarters facilitators include:
Water – Surabhi Shaw and Lauren Wisniewski
Air – Renelle Rae
Environmental Information- Shelley Fudge
Cooperative Environmental Management – Khanna Johnston
Human Resources – Wendy Mallory, Barbara Viney and Eduardo Rodella
Public Affairs – Bonnie Piper
Pesticide Programs – Todd Peterson
Economics Policy & Innovation – Kathleen Bailey, Jane Stewart-Yaeger and Leanne Nurse
General Counsel – David Batson
Compliance & Enforcement – Phyllis Flaherty and Rey Riviera
Nancy Whittle [South Carolina] will be working with Region 4 staff as well as using the materials in workshops for SC Health and Environmental Conservation personnel and communities. James Brunswick will use "Working Together" in the same way and hopes to work with the Region 3 staff facilitators as well.
Mary Ann Rondinella [FWHA] will incorporate Working Together in training that will soon be launched for her agency in Denver and is looking forward to collaborating with EPA-Denver facilitators. Becky Fulkerson [Reclamation], Maia Browning [Park Service] and Sue Tillotson [Smithsonian] have offered to work with EPA HQ facilitators to provide workshops within EPA as well as their organizations.
OPEI, in collaboration with OHR, DC-based trainers and any of the certified group in the field who can visit the DC area, hopes to launch a second series of eight lunchtime brown bag workshops early in 2009. Readers will receive information about the workshops as soon as plans are in place.
May 2008 trainers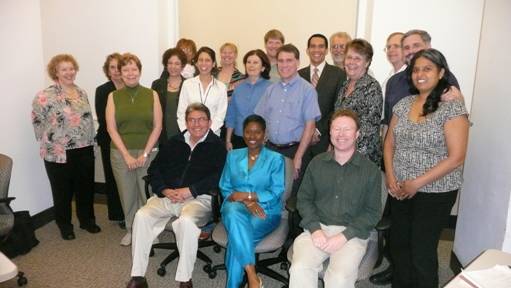 Row 1, left to right: Eduardo Rodela, Veronica Robertson, David Cooper
Row 2, left to right: Patricia Bonner, Khanna Johnston, David Reazin, Jane Stewart-Yeager, Surhabi Shaw
Row 3, left to right: Barbara Viney, Mary Byrne, Shelly Fudge, Phyllis Flaherty, Rey Reveira, Kenneth Elstein
Row 4: Leanne Nurse, Renelle Rae, Warren Johnson, Walt Galloway, Todd Peterson
Missing are John Perrecone and Wendy Mallory.
October 2008 trainers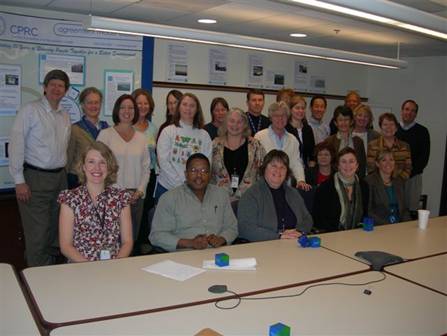 Row 1, left to right: Karen Bandhauer, James Brunswick, Judy Smith, Helen Duteau, Lisa Lloyd
Row 2, left to right: Paula Estornell, Sharon Osowski, Marilyn TenBrink, Nancy Whittle, Lauren Wizneiwski, Mary Brewster, Maryann Rondinella, Betsy Fulkerson, Patricia Bonner, Doug Sarno
Row 3: David Batson, Maia Browning, Bonnie Piper, Candace Carraway, Lori Lewis, Mike Shanahan, Leanne Nurse, Brian Nishitani, Running Grass
Missing are Kathleen Bailey, Margaret Millard, Sue Tillotson, and Cynthia Peurifoy, who took the photograph.