Public Involvement Network News
Note: EPA no longer updates this information, but it may be useful as a reference or resource.
---
Green Your School Contest Results
On December 17, 2009, the Student Conservation Association (SCA) and NBC Universal Foundation announced the winning schools for the national "Green Your School" contest. The initiative, launched last spring, challenged eco-conscious high schoolers to submit their school's best green-related projects. Funding for the "Green Your School" contest comes from the NBC Universal Foundation in connection with NBC Universal's Green Initiative, "Green is Universal."
After reaching out to hundreds of thousands of classrooms nationwide, a panel of distinguished judges, including NBC News' Anne Thompson and environmentalist Simran Sethi, selected West Geauga High School in Chesterland, Ohio as the grand prize winner of $5,000. Two runner-up prizes of $2,500 were also awarded to Boston Latin School in Boston, Mass. and Amphitheater High School in Tucson, AZ.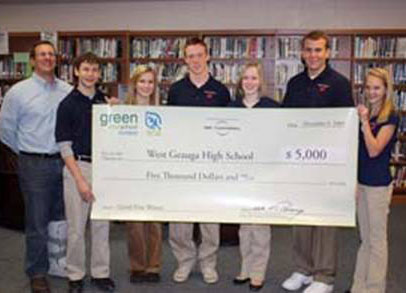 The "Green Your School" contest engaged students in conservation projects that improved, restored, or beautified their school's environment. To be eligible, entries had to be student-led and have been started after August 1, 2008. Projects were judged on their environmental impact on the health of the school, sustainability, and the involvement of other students, teachers, administrators and/or the outside community.
You can see the winning project description at http://www.thesca.org/contest/green-your-school-finalists/west-geauga-high-school-environmental-discovery-project.