Public Involvement Network News
Note: EPA no longer updates this information, but it may be useful as a reference or resource.
---
Eighteen Join the Collaboration Corps
Pat Bonner, NCEI
In May 2009, individuals from Regions 3, 4, 5 and 9, and Headquarters offices [General Counsel, Enforcement and Compliance Assurance, Policy, Economics and Innovation, Financial Officer, Superfund, Air and Radiation], Financial Officer at Research Triangle Park, the State of South Carolina and the Federal Energy Regulatory Commission] earned certification to facilitate collaboration training.
They spent two and a half intense days learning and working together. During the first day they experienced the "Working Together: An Introduction to Collaborative Decision Making" workshop as students. That night they practiced a portion of the course to present the next day.
After an hour of discussing the course and their reactions to the material, they split into three small groups, each with a facilitator. Each person facilitated a different part of the material and received feedback from all the other members of the group. That feedback was quite positive because this group really made the material their own. Each brought his or her special perspective and personality and had thought about how their target organizations would react and use the learning involved in the part of the workshop they facilitated.
It really was exciting to see these special people collaborate with one another, generate ideas for bring the training into offices, regions and labs and use it to build collaboration competencies not only within EPA but also with our partners.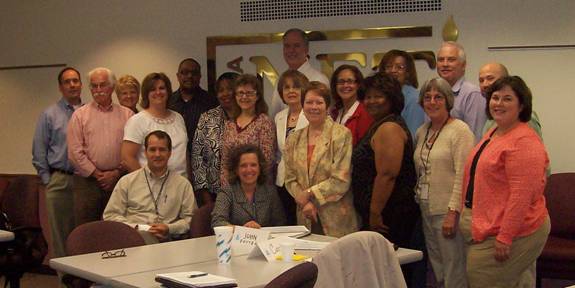 Back Row, left to right: Doug Sarno, of the Perspectives Group; Marie Holman and Reggie Harris – Region 3; John Foster and Leanne Nurse [OPEI Collaboration staff] – OPEI; Alan Powell – Region 4; Steve Neugenboren – OGC.
Second Row: Dennis O'Conner – OAR; Renee Miller - OCFO at RTP and Renee Brooks --OCFO; Deborah Osborne and Jerrilynn Purdy -- FERC; Pat Bonner [OPEI Collaboration staff]; Robin Robinson – OECA; Carolyn Douglas – Region 9; Marilou Martin – Region 5, and Donne Rowe – South Carolina
Seated: Brian Holtzclaw – Region 4 on detail to OPEI, and Suzanne Wells – Superfund
Missing: Mardi Klevs – Region 5 and Andrew Geller on detail to Region 5 from ORD at Research Triangle Park, North Carolina.