Collaboration and Partnerships
Note: EPA no longer updates this information, but it may be useful as a reference or resource.
---
Atchafalaya East Watershed Initiative (LA)
EPA Region 6 – Dallas - Water Quality Protection Division
The Watershed: The Atchafalaya East Watershed (AEW) is located between the East Guide Levee of the Atchafalaya Basin Floodway and the Mississippi River (Figure 1). It is the upper portion of the Terrebonne Basin, which includes portions of Iberville, Pointe Coupee, and West Baton Rouge Parishes. Terrebonne Basin begins at Morganza, Louisiana and continues to the coast. The AEW is the upper portion of the watershed that is Barataria-Terrebonne National Estuary (BTNEP), which was chartered as a National Estuary in 1990. It was designated the Atchafalaya National Heritage Area by the United States Congress in 2006 (National Park Service, U.S. Department of Interior).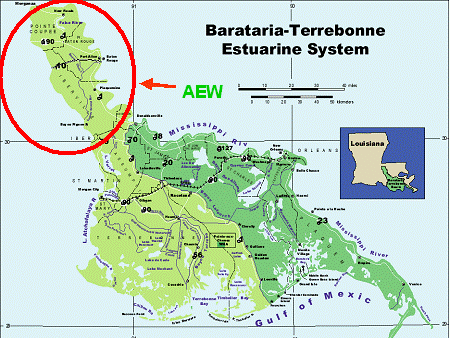 Description of Activity: The residents of Iberville, Point Coupee, and West Baton Rouge Parishes have joined forces in the Atchafalaya East Watershed Initiative (AEW), and have engaged local, state, and federal agencies and NGO entities in their quest to solve watershed resource issues. A number of problems threaten the basin and diminish the quality of the surrounding communities, including erosion, sedimentation, water management, fisheries losses, navigation impairment and others. Water quality is a particular concern. The AEW has initiated a planning process with clear phases and steps identified leading to restoration of the upper Atchafalaya. EPA is a technical/programmatic support partner in this work.
The benefits of this Atchafalaya East Watershed (AEW) Initiative are to improve the management of the water resources in the three Parishes, to maximize the effectiveness of water resource projects and to improve the quality of life. Comprehensive planning will lead to more effective and coordinated projects that will improve quality of life in the AEW. This approach will reduce flood damage, improve water quality, reduce erosion and sedimentation, restore fisheries, and enhance economic development.
This independent watershed-based planning initiative is the first of its kind in Louisiana, where gaining community-level stakeholder support for watershed restoration has proven difficult. The AEW is an ideal model for the sort of community-based watershed efforts EPA encourages as part of its §319 Nonpoint Source/Watersheds program and through its support to the State of Louisiana.
Initial reconnaissance (Phase 1 – Identify Problems and Opportunities) conducted over the past year was funded through the Louisiana legislature. Final recommendations were for a watershed approach to resolve the identified problems since they are widespread and simply cannot be addressed in a piecemeal fashion. Each of the three AEW Parishes provided funding for technical and logistical support for the initial project phase. Expansion into other Basin parishes is likely.
The long-term vision for this watershed restoration effort is to combine the nine-step EPA Watershed Planning Process and the six-step Corps of Engineers Planning Process, coupled with extensive stakeholder coordination for a long-term planning/restoration process. AEW has adopted the U.S. Environmental Protection Agency's (EPA) definition as follows: "The watershed approach is a coordinating framework for environmental management that focuses public and private sector efforts to address the highest priority problems within hydrologically-defined geographic areas, taking into consideration both ground and surface water flow".
Active watershed planning for remediation is underway, and will lead to changes in development patterns/practices, hydrologic restoration, and practices that reduce polluted runoff. This stakeholder-driven approach will ultimately reduce flood damage, improve water quality, reduce erosion and sedimentation, restore fisheries, and enhance economic development.
The major significance of this project to EPA is the community-based aspect of project leadership. A largely volunteer program, such as that implemented through §319 Nonpoint Source, is dependent on people living within a watershed caring about and wanting to protect and restore their own waters. This project represents a critical break through in this setting.
Interagency Partners: Iberville, Point Coupee and West Baton Rouge LA parishes, State of Louisiana, Louisiana Wildlife and Fisheries, Louisiana Department of Natural Resources, Louisiana Department of Environmental Quality, EPA, DOI - US Fish and Wildlife Service, Army Corps of Engineers, USDA – Natural Resource Conservation Service(NRCS0
Local Partners: 3 parishes lead the project; local participants include towns, NGOs and others.