Public Involvement Network News
Note: EPA no longer updates this information, but it may be useful as a reference or resource.
---
A Community Conversation at CZ09: Building Capacity for Collaborative Decisions, Resilient Ecosystems, and Sustainable Practices: Water, Land, Community and People in Estuarine Watersheds

Marilyn Buchholtz ten Brink, Ph.D. (EPA/ORD, National Health and Environmental Effects Research Laboratory, Atlantic Ecology Division, Narragansett, RI)
Herman A. Karl, Ph.D. (USGS and Massachusetts Institute of Technology, Department of Urban Studies, MIT-USGS Science Impact Collaborative, Cambridge, MA)
Kalle Matso (The Cooperative Institute for Coastal and Estuarine Environmental Technology (CICEET), NOAA-University of New Hampshire, Durham, NH)
Patricia Bonner (EPA/OPEI, National Center for Environmental Innovation, Washington DC)
Ann Vega (EPA/ORD National Risk Management Research Laboratory, Land Remediation and Pollution Control Division, Cincinnati, OH)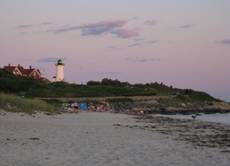 The challenge of having it all: Coastal Zone Management in the face of history, culture, transportation, recreation, housing, business, energy, habitat, fisheries, wetlands, eutrophication, contamination, water supply, erosion, and climate change. Photo of Nobska Beach and Light, MA.

Coastal resource managers from around the world gathered in Boston July 19-23 for the 16th biennial Coastal Zone Conference (CZ09). While PowerPoint presentations clicked in the technical sessions, up on the 4th floor, the rip of flip charts and rise and fall of many voices spilled into the halls. The CZ09 program included 15 Café Conversations, which are two-and-a-half hour facilitated community discussions around a specific topic. The format is particularly effective when you want to share mutual knowledge, explore differing perspectives, collaboratively define problems and consider solutions, stimulate innovation, and engage people.
To bring collective intelligence to the challenge of creating a more environmentally-friendly society, we convened a Café Conversation "Building Capacity for Collaborative Decisions, Resilient Ecosystems, and Sustainable Practices: Water, land, community and people in estuarine watersheds. " Knowing the importance of integrating science-based knowledge with political and socioeconomic considerations, we felt that this would be a lively and thoughtful venue-as it indeed was.
Our Café was structured with a 10-minute presentation to set the stage, and the remainder of the conversation was broken into four sequential sections. Over 35 people participated in the conversation, bringing an amazing breadth and depth of experience to this discussion about public participation, values, use of scientific knowledge, and hopes for the future. Participants were asked to share examples of successes and challenges, discuss priorities, and learn strategies and tools that can assist in decision-making within estuarine watersheds. Voices came from citizens, agencies, organizations, communities, academics, states, businesses, leaders, consumers, and stewards. Here we share some of the conversation.
Why Talk about Building Capacity?
Population growth, urban expansion, and the warming climate have and will continue to stress our coastal ecosystems. Decisions on how and when to respond with stewardship, adaptation, and mitigation are made by individuals, municipalities, states, and agencies. These decisions are made at many geographic scales, in the context of individual values and imperfect knowledge, perhaps with regulatory incentive. They affect water quality, water quantity, living resources, habitat functions, ecosystem integrity and human well-being. Currently, there is disparity in access to and use of technical information across the coastal areas of the United States. There is also variety in the organizational and governance structures that exist to educate, advocate, and regulate around land, water, and resource issues. Finally, there are often conflicting interests and values around resources held in common, and economic choices to go with them.
The 2008 National Academy Report "Public Participation in Environmental Assessment and Decision Making" recommends that "public participation should be fully incorporated into environmental assessment and decision-making processes…as a requisite of effective action." Management plans, stakeholder needs assessments, regional action plans, and regulatory agency strategic plans all call for both technical information and improved methods to engage people and managers in using that information to restore impaired waters and adapt for future needs. This is especially true when choices about land use, waste management, and transportation must balance local fiscal realities against needs to reduce nitrogen loadings, upgrade drainage systems for anticipated climate change, and accommodate increasing populations. There is widening recognition of the urgent need to build capacity across the public sector for collaborative decision-making, for common interest in creating or preserving resilient ecosystems, and for implementation of sustainable practices.
The objective here was to consider the interface between people, technical knowledge, and environmental decisions and to discuss specific needs and practical tools (such as case studies, best practices, strategies, and best process templates) that will increase the capacity, capability, and motivation for decision-makers at all scales to make choices that support resiliency and sustainable practices. 'Shared Capacity' was approached as the intersection of Participation (leadership, community, people) and Capacity (resources, knowledge, motivation) around a common interest. A cycle of cooperative adaptive management that supports a spiral into balance is comprised of steps that Engage people à Learn what works à Build capacity à Take action à Change outcomes à Recognize response à and Adapt strategies. Our dialogue focused on engaging, learning, and building capacity.
Voices in Dialogue
The first section of the Café Conversation was a brainstorm on critical issues & questions, with the prompt question (1) What kinds of issues come up when attempting to involve the public in environmental decisions?
We don't present enough at the lay level.
It's less about decision making, and more about getting people to care.
Do we need to start looking beyond meetings as a mechanism for contacting people?
Need to beware of the Invite, Inquire and Ignore model; we've got to give them something to do. People show up at the end when the decision is being made.
Perhaps we need to scare them more? No, literature shows that scare tactics don't work in the absence of specific steps to achieve a better future.
The public sector doesn't really have any consequences for not using public input. Nor are there any incentives for it.
We're all too busy and folks are suffering from information overload. We have to get creative.
We have to recognize that there's a decline in social capital that's well documented. Scientific concepts are really hard for local planners to grasp. Need to use more visual tools to counter difficulty with temporal and spatial scaling.
We often don't know what we want the roles of citizens to be.
What about top down actions, regulations, like EPA has taken in the past…the stick?
We need to better incorporate and articulate values as part of our efforts to manage ecosystems.
The second section was an open discussion of strategies and successes, asking 'What does success look and feel like?' (2) Why did these projects succeed – what did they do right?
Important to identify and partner with the people in a specific region who are trusted.
Try to have endeavors with longer timelines, like 5 years. That really helps get people involved.
Involve groups early who have influence. Then choose subjects that speak to people.
Ask people not what their position are, but rather what their values are.
A Utility achieved success by changing management, by moving away from adversarial litigation and using collaborative processes instead.
Use professional facilitation or negotiation.
Bring stakeholders to the table; messaging form and content was critical.
Emulate Thank You Ocean campaigns.
Make sure we know who thinks an endeavor was a success.
Use point-people, and involve people who have authority to make changes.
Share the information; get stakeholders involved and tackle a narrow set of issues.
Put money and resources where you want action.
Include appropriate expertise- in addition to science.
The third section addressed needs and priorities for building capacity by asking how to move beyond visions to a reality of shared knowledge and engaged people. (3) What are the greatest needs? How do we prioritize them? What capabilities are most critical to success?
Need training in collaborative processes.
Need to know more about our audiences, what motivates them.
Need to figure out how to keep them engaged.
Need to develop vocabulary that works.
Need to take those general, big, unwieldy topics and make them narrow.
Reframe the problem so that people can get their arms around it.
Need to go into public engagement ready to really listen, not just to validate preconceived ideas held by science agencies.
Might need new resources, or to spend existing resources differently.
Look for opportunities to merge efforts.
Need more 'against the flow' risk-takers.
We need a paradigm shift. The shift is happening. It's helpful if calls for proposals/grants continue to support translation and outreach. Those aspects should receive the same level of support as the science.
We should all lead by example. Seek to learn how to do those things we can't do.
We should branch out in terms of communication.
We should realize that we often think of the public as something to 'control.' That culture doesn't help the collaborative process.
We need to invest more in social science; we're moving faster in this direction than some of us might think.
In the final section, Creating action!, from the context of capacity building, participants asked (4) What actions will address the highest priority needs, and how do we implement successfully? A post-it exercise helped bring the 'action' conversation to a practical level. Participants exchanged answers and actions addressing (a) What do you view as a process, tool, action, resource, or strategy that you want to see more of? (b) What do you think is the greatest need and/or highest priority to take action on? And (c) What obstacles or impediments have you experienced or observed (large or small, but frustrating)?
Affect funding priorities within your own organization.
Use both social and science perspectives/lens in your own work
Evaluate outcomes
Build sustainability and capacity
Be opportunistic
Stress ecosystem services (socioeconomic angle)
Ownership of issues is important; create it.
Find ways for a public person to become a stakeholder.
Train on stakeholder group selection and dynamics.
Relate to "everyday values"
Focus on users and people.
Use different interventions for different stages of readiness.
Take opportunities to build community.
Use stories and oral histories.
Use social venues (churches, parties, rallies)
Use senior volunteers; work with AARP
Gain people's trust.
The Café wrapped up with discussion about values and interests that motivate people to participate in dialogue or change behaviors – What might engage the people who live in our neighborhoods? What might engage our elders?
Our conversation about Building Capacity addressed successes and needs for engagement and discourse to better protect waters, land, people, and communities. In addition, this and other Café Conversations at CZ09 (e.g., Future Leadership; Outreach & Education; Regional Governance) provided venues for the coastal management community to build its own capacity for stewardship.
The authors wish to acknowledge and thank the many students, colleagues, and citizens who are creating the capacity for better decisions. Authors may be reached via email at tenbrink.marilyn@epa.gov, bonner.patricia@epa.gov, vega.ann@epa.gov, hkarl@usgs.gov, and kalle.matso@unh.edu.