LUST Recovery Act Quarterly Reports - Archive
View Interactive Map of the Recovery Act Investments (data as of 12/31/11) | Learn More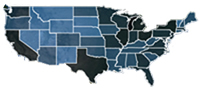 Note: EPA no longer updates this information, but it may be useful as a reference or resource.
EPA provided $181.41 million of LUST Recovery Act money to states and territories and invested $6.3 million toward sites in Indian country to assess and clean up releases from underground storage tanks. EPA collected data from states and territories regarding LUST Recovery Act money performance and directly provided information on work in Indian country, since the Agency implements the program for those sites. Performance data included: direct and indirect activities for site assessments initiated; site assessments completed; cleanups initiated; cleanups completed; and other assessment and cleanup activities where LUST Recovery Act money contributed to activities, but projects did not achieve one of the eight performance measures. In the reports below, EPA provides cumulative data in table format for all states, territories, and Indian country.

Definitions
Performance Measures
State and territorial underground storage tank programs reported to EPA four times a year with data on their LUST Recovery Act performance, based on measures in EPA's LUST Recovery Act program guidance. EPA provided clarification on these performance measure definitions through subsequent guidance and lessons learned memos (see Recipient Reporting Guidance).

Job Information
Recipients of LUST Recovery Act money calculated and reported the number of jobs each quarter by summing the total number of hours worked and paid with Recovery Act money and dividing that number by 520, which converted total hours into full time jobs for the quarter. For more information about calculating jobs, refer to Office of Management and Budget's guidance.
Reporting Period

___________________________
1EPA originally allocated $190.7 million in Recovery Act money to states and territories for LUST cleanup activities. Florida returned slightly more than $9.2 million to EPA and Congress subsequently rescinded $9.2 million under the Education and Medicaid Assistance Act. This means a net of $181.4 million was actually provided to states and territories.