Japanese Nuclear Emergency: Radiation Monitoring
You are here: EPA Home
RadNet Data for Boise, Idaho
RadNet Data for Boise, Idaho

This site contains information and data from March 11, 2011 to June 30, 2011. EPA has returned to routine RadNet operations. This site will continue to be available for historical and informative purposes.
For real-time air monitoring data, please visit the EPA RadNet website and Central Data Exchange. To view both current and historical laboratory data, please visit our Envirofacts database.
On this page:
This page shows multiple types of data from this location, including the gross gamma exposure rate readings from our near-real-time air monitor and data from the detailed laboratory sample analysis. Gamma monitoring results are presented because they are a useful indicator of the radionuclides associated with a nuclear power incident.
Gamma Exposure Rate Air Monitoring Data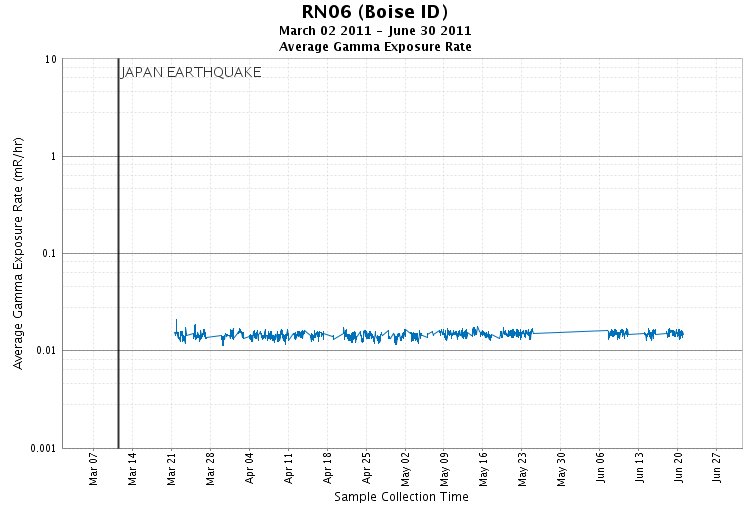 The graph shows the external exposure rate data, which is the dose, or amount of radiation, you would receive on the outside of your body if you were standing in that particular location. Background, or normal, radiation levels depend on factors including altitude and the amount of naturally occurring radioactive elements in the soil. Background external exposure rates typically range between 0.005 and 0.020 millirem per hour (mR/hr) - levels that are thousands of times below any conservative level of concern.
Notes on the Data
Brief gaps in RadNet data represent instrument error.
Larger gaps (>1 day) occasionally appear when RadNet monitors are taken offline for servicing.
A notice is posted when monitors are off-line for servicing. A blank graph indicates that one part of a meter on the monitor is not working.
Electrical interference can cause spikes, shown on graphs as one point significantly higher than the rest of the data.
As you view data, be aware that there are often large differences in normal background radiation among the monitoring locations because background radiation levels depend on altitude and the amount of naturally occurring radioactive elements in the local soil. What is natural in one location is different from what is natural in another.
To get the data shown in this graph, please search using our query tool.
---
Laboratory Data
In the tables below we provide sampling results for:
Air Filter and Air Cartridge
During detailed filter analyses from several RadNet air monitor locations across the nation, the U.S. Environmental Protection Agency (EPA) identified trace amounts of radioactive isotopes consistent with the Japanese nuclear incident. These types of findings are to be expected in the coming days and are far below levels of public health concern.
About air filter and air cartridge laboratory data
Precipitation
Elevated levels of radioactive material in rainwater have been expected as a result of the Japanese nuclear incident. Since radiation is known to travel in the atmosphere - precipitation data collected in several states have shown elevated levels of radiation in recent precipitation events. In all cases, these are levels above the normal background levels historically reported in these areas. While short-term elevations such as these do not raise public health concerns and the levels seen in rainwater were expected to be relatively short in duration-U.S. EPA took steps to increase the level of monitoring of precipitation, drinking water, and other potential exposure routes to continue to verify that. After a thorough data review showing declining radiation levels in these samples, EPA has returned to the routine RadNet sampling and analysis process for precipitation, drinking water and milk.
About precipitation laboratory data
Drinking Water
Drinking water samples collected by EPA since the Japanese nuclear incident have shown radioactive material at levels well below public-health concern. Similar findings are to be expected in the coming weeks.
About drinking water laboratory data