Detroit Research Studies
Science Question
How does community-level ambient monitoring represent personal exposures of PM components and air toxics attributed to specific sources? EPA will be investigating how ambient source impact information obtained from community, residential, and potentially the personal level can be used in linked toxicological, epidemiological and health effect studies. Obtaining this information is critical to better understanding the role of specific ambient pollution sources upon human health and the ability of community-based monitors to represent potential human exposures.
Health Canada-US EPA (Windsor/Detroit Studies) Workshop - Researchers and interested parties from Health Canada, Environment Canada, the US Environmental Protection Agency, the University of Michigan, the Michigan Department of Environmental Quality, the Detroit Department of Environmental Affairs, and the Detroit Public Schools met in Detroit, Michigan on October 21, 2005 to report upon ongoing and planned human exposure and health effects research studies involving the Windsor/Detroit air shed. This page includes links to the agenda, attendee list, and presentations.
Background
Ambient air pollution data collected in communities are typically used in epidemiology studies to determine relationships between air pollution and human health effects. Previous research has shown that concentrations of PM2.5 mass concentrations measured at community sites are often a reasonable surrogate for personal PM mass concentration exposures. Presently, it is not known if specific components of PM and related air toxic pollutants from specific ambient sources observe the same relationship.
Research Goals
EPA and its collaborators have a series of ongoing or planned research studies targeting the Detroit Metropolitan area. These include:
the Detroit Exposure and Aerosol Research Study (DEARS),
the Detroit Children's Health Study (DCHS),
the Mechanistic Indicators of Childhood Asthma (MICA)
the Detroit Cardiovascular Health Study, and
the Detroit PM Toxicology Study
the Canadian Windsor, Ontario Exposure Assessment Study
The overarching goal of these related efforts are to use community, residential indoor, residential outdoor, and possibly even personal exposure monitoring data to assess the impact of ambient-based PM and air toxic sources upon human populations and the neighborhoods in which they live. Assessing ambient source impacts to local neighborhoods and observed health effects will provide invaluable information on the current uncertainty of using ambient-based monitor as a surrogate for human exposures.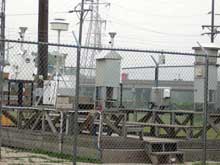 A community monitoring site at Allen Park, Michigan. Sites like these are used around the U.S. as a surrogate to human exposure measurements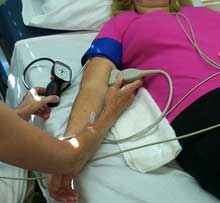 The collection of sensitive ultrasound measurements in the home environment is a key component of the Detroit Cardiovascular Health Study.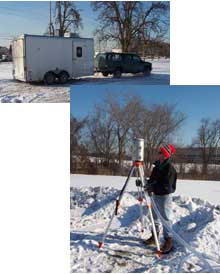 The 4-stage Cascade Impactor positioned in Detroit.
The Studies
DEARS - Detroit Exposure and Aerosol Research Study (DEARS)
The DEARS will collect ambient, personal, residential indoor and residential outdoor data for a total of 120 residents of Wayne County, Michigan over a 3-year period. The ambient source impact of PM constituents and select air toxics will be identified. This source information will be leveraged in the parallel or linked studies.
DCHS - Detroit Children's Health Study
The DCHS will use exposure modeling data for PM and select criteria pollutant gases from the DEARS as well as school-based exposure monitoring to assess the impact of ambient-based pollutants upon the health status of children (ages 7 - 12) in the Detroit and Dearborn areas. One focus will be the impact of potential automotive emission exposures upon the exacerbation of asthma.
Contact: Dr. Lucas Neas. 919-966-9961 or Dr. Shaibal Mukerjee at 919-541-1865
Mechanistic Indicators of Childhood Asthma (MICA)
A number of environmental and personal factors have already been associated with the development and exacerbation of childhood asthma, but many aspects of this association require further research. The Mechanistic Indicators of Childhood Asthma (MICA) is an epidemiologic study that is being conducted by the U.S. EPA in order to advance our current understanding of various risk factors and triggers of childhood asthma. This study is gathering and analyzing information during 2006-2009 on biological markers of exposure, early effect, and susceptibility (including gene expression data) from 100 asthmatic and 100 non-asthmatic children recruited from the Detroit, Michigan Metropolitan area. MICA study participants provide questionnaire data, exhaled nitric oxide and lung function measurements, as well as indoor dust, blood, urine and other biological specimens that are analyzed for various markers of exposure to volatile organic compounds (VOCs), metals and polycyclic aromatic hydrocarbons (PAHs). The air monitoring component of MICA (MICA-air) utilizes a participant-based approach in which passive samplers are deployed by parents to collect indoor and outdoor measurements of nitrogen dioxide (NO2), VOCs, PAHs and naphthalene. Monitoring data generated by MICA-air will facilitate evaluation and refinement of current exposure assessment techniques, while the participant-based strategy may provide a cost-effective approach to exposure assessment that can be applied in future community health studies on asthma and other conditions.
contact: Dr. Jane Gallagher. 919-966-0638
Detroit Cardiovascular Health Study
The Detroit Cardiovascular Health Study is being conducted by the University of Michigan as a parallel study to the DEARS. Personal exposure data from the DEARS will be integrated to cardiovascular findings associated with brachial artery dilation. Clinical findings have shown this to be a sensitive marker of potential exposures to some pollutant classes, like PM using ambient-based monitoring. Use of personal exposure data will potentially provide a more sensitive analysis.
More information about the Cardiovascular Health Study.
(PDF, 1 page, 44KB)
Contact: Dr. Rob Brook. 734-998-7940
Detroit PM Toxicology Study
The Detroit PM Toxicology Study will link PM source characterization data from the DEARS to ultrafine and other select size fractions of PM. Toxicological assessment of each fraction combined with source apportionment information will provide insight as to the toxic properties of PM attributed to specific ambient sources. Size fractions will be collected using a Harvard-designed cascade impactor and a large volume blower housed in a special moveable trailer that can be located to the DEARS and other study sites.
Contact: Dr. Ian Gilmour. 919-541-0015
Canadian Windsor, Ontario Exposure Assessment Study
The Canadian Windsor Air Quality Study is being conducted simultaneously with the DEARS and uses a similar study design. Data collected in this study have the potential for extending exposure model development to a larger geographical area than what the DEARS alone will provide. This holds the potential for being of benefit to the DCHS and spatial modeling of pollutant concentrations.
Contact: Dr. Amanda Wheeler 613-957-7916
Future Directions
The DEARS has completed field data collections from three years of monitoring. Source apportionment and modeling applications will soon begin using data collected from the study.
The DCHS began in the summer of 2005. School-based exposure monitoring have been performed and linked to the collection of approximately 11,000 health surveys collected from children (ages 7 - 12). Analyses are currently being performed.
The Detroit Cardiovascular Health Study is being performed the completion of all exposure and health data collections. Information gained from the real-world collection of circulatory vessel constriction as a function of pollutant exposure is being investigated.
The Detroit PM Toxicology Study has been completed. Data and operational information gained from 2 seasons will be used to investigate toxicological properties of PM.
The Windsor, Ontario Exposure Assessment Study mimicked the schedule of the DEARS. Data analysis began in 2007.
Impact and Outcomes
The Detroit studies show the impact of collaborative inter-and intralaboratory efforts across ORD to fully leverage resources on the complex issue of PM, air toxics, and observed toxicological and human health effects. ORD is collaborating with Region V, the State of Michigan, local environmental community action groups, local governmental organizations, academia, and Health Canada and Environment Canada in this process. The outcome of these efforts will be a database and findings useful for understanding PM and air toxics source impacts upon the local population and the reduction of the uncertainty of using ambient-based monitors to assess source impacts for epidemiological studies.