Select Preliminary Findings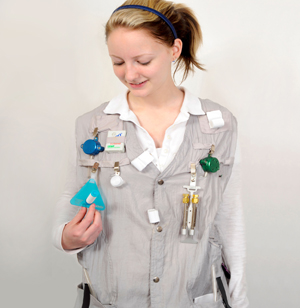 The Detroit Exposure and Aerosol Research Study (DEARS) yielded findings that fully support its original study hypothesis: that is, significant outdoor air pollutant mass concentrations have the potential to exist across metropolitan areas like those found in Detroit. Likewise outdoor pollutant compositions can vary across metropolitan areas. The study also found that total personal exposures to a variety of air pollutants (particulate matter, gases, and semi-volatiles) often appear to be poorly associated with daily changes in ambient-based measurements.
The study found that epidemiological studies using ambient monitoring data as a surrogate for human population exposures might unknowingly introduce exposure uncertainties into risk assessments. The uncertainties being introduced appear to be dependent on a multitude of factors. The DEARS research suggests that the season, the pollutant, meteorological factors, and human and environmental exposure factors among others, are important in understanding the observed pollutant variability.
Metropolitan areas like Detroit, with a wide range of industrial, near-road, and local point sources that may contribute to overall air quality, appear to be those most likely to have such exposure uncertainties. In situations where residential neighborhoods are interspersed with different sources, very complex airsheds may exist and thus require extensive exposure monitoring to fully understand pollutant concentrations as they relate to the populations living there.
Selected findings from DEARS:
Mass concentrations of fine and coarse particulate matter (PM) in residential outdoor air were observed to be somewhat variable across the Wayne County neighborhoods monitored during the study. Meteorology, as well as proximity to various large-scale industrial sources and smaller sources are believed to have been responsible for the observed concentration differences. These neighborhood-based differences sometimes varied by as much as 15 percent from that of a central community monitor located in Allen Park, Mich. Twenty-four hour based measurements taken in the Dearborn area averaged more than 15 micrograms per cubic meter — the annual National Ambient Air Quality Standard for this pollutant. Concentrations of coarse PM varied considerably by season in the various DEARS neighborhoods. Researchers believe that local sources played a significant role in the day-to-day variability of this pollutant.
Comparison of fine PM mass composition across the DEARS neighborhoods revealed the influence of seasonal and spatial (location) differences. In particular, elemental PM components such as iron, calcium, zinc, and lead often varied by season and location. Personal exposures to select elements such as calcium, iron, and zinc measured with personal monitoring vests sometimes reached levels that indicated the cumulative daily exposures for some pollutants far exceeded those measured with just the ambient monitors. Researchers believe that the residential indoor environment played a key role in these elevated total personal exposures. Both season and location appear to be influencing factors in DEARS participants' exposure to these pollutants.
Personal activities and indoor environments (captured by personal monitoring vests) appeared to significantly impact participants' total exposures to volatile organic compounds (VOCs). On average, study participants were often exposed to twice the amount of VOCs that would have been expected based on the measurements taken at ambient sites. The concentration of VOCs in the outdoor air varied considerably between DEARS neighborhoods, suggesting that local sources of VOCs play a significant role in personal exposure levels.
DEARS results found that about half the total amount of fine PM participants were exposed to came from non-ambient sources, including residential indoor environments, non-residential indoor environments, and time spent in travel. Epidemiological examination of the impact of exposure to fine particulate matter as measured by personal monitoring vests in homes, workplaces, and while traveling, found that these measurements were associated with modest increases in blood pressures. However, when researchers used only ambient monitoring data, they could find no significant statistical associations between exposure to fine PM and changes in blood pressure. This indicates that data from ambient monitors alone may not be as sensitive in accurately studying the effects of PM on human health.
Nitrogen dioxide measurements taken via ambient monitors were shown to be a poor predictor of total personal exposure to this pollutant. Study results found that indoor residential environments, especially homes containing gas appliances, significantly contributed to the overall personal exposure participants encountered with this air pollutant. Seasonal conditions and the presence of environmental tobacco smoke both significantly influenced total exposures to nitrogen dioxide. However, seasonal conditions did not appear to significantly influence levels of nitrogen dioxide concentrations measured in the ambient air.
Pollutant exposure information collected via personal monitoring vests often provided a much more sensitive linkage to observable health effects than did measurements collected via ambient monitors. The study, for example, found that exposures to airborne potassium measured with the monitoring vests in participants' homes, workplaces, and while traveling, was associated with changes in low blood pressure. Additionally, personal exposures to nitrogen dioxide, measured with the vests, were found to be linked with changes in brachial artery diameter.
Monitoring data indicated that exposure to fine particulate matter was associated with changes in study participants' heart rate 1-10 hours after exposure. This may mean that exposure to fine PM results in unwanted changes in arterial diameters. Such responses could reflect increased cardiovascular risk among susceptible individuals.
DEARS data used in other studies
Initial Study Findings (October 2007)
Initial findings from the Detroit Exposure and Aerosol Research Study were provided to staff members from EPA Region 5, the State of Michigan (MDEQ), Detroit and Wayne County, and regional and local community action groups on October 24-25, 2007 (Detroit, Mich.). Information was provided concerning preliminary monitoring results pertaining to particulate matter and select gas phase pollutants. Progress reports concerning the analyses were provided and the direction of future efforts was discussed.
Canada and US Border Air Quality Studies Science Exchange (October 2008)
Canadian and U.S. EPA researchers, along with other interested institutions involved in air quality research efforts in the Detroit-Windsor border areas met on Oct. 29, 2008 to discuss progress of the individual studies. Discussions concerning the best approach to leverage data findings across the entire region took place.
Findings from the linked DEARS and the University of Michigan's Detroit Cardiovascular Health Study
The American Heart Association published a paper coauthored by scientists from the University of Michigan and EPA, titled Adverse Cardiovascular Responses to Alterations in Daily Levels of Personal and Ambient Fine Particulate Matter Air Pollution.

More Results
DEARS has led to the publication of many peer reviewed scientific papers on air pollution, exposure, and health, which can be found on the publications page.