Green Landscaping: Greenacres
Natural Landscaping Tool Kit
THE NATURAL LANDSCAPING ALTERNATIVE:

An Annotated Slide Collection - Slide 1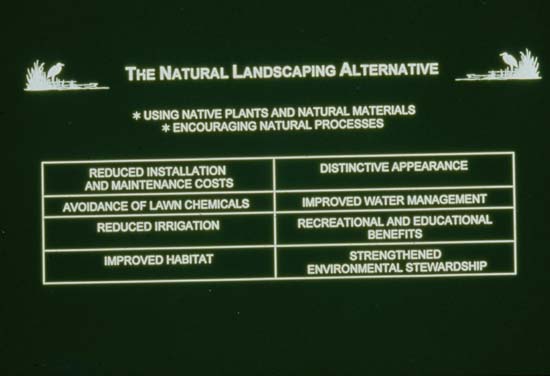 THE NATURAL LANDSCAPING ALTERNATIVE: Natural landscaping, often called native landscaping or even beneficial landscaping, emphasizes the use of native plants and natural materials in landscaping. These natural landscaping techniques have numerous advantages over conventional turf grass lawns and highly engineered site management techniques.
Natural landscaping is based upon natural attributes and natural processes which result in: (1) reduced landscape installation and maintenance costs; (2) avoidance of the use of lawn chemicals such as fertilizers and herbicides; (3) reduced or eliminated costs for irrigation systems; (4) improved habitat and increased biodiversity; (5) distinctive and attractive sites; (6) improved water quality and reduced damages from stormwater; (7) improved outdoor recreation and education opportunities; and (8) strengthened stewardship of the environment by people.