National Lead Free Wheel Weight Initiative (NLFWWI)
Note: EPA no longer updates this information, but it may be useful as a reference or resource.
Lead Wheel Weight Topics
Basic Information on Lead Wheel Weights
Wheel weights are clipped to the rims of every automobile wheel in the United States in order to balance the tires. These weights often come loose and fall off. They are either washed into storm sewers and end up in waterways or are gathered during street cleaning and placed in municipal landfills. The weights are susceptible to atmospheric corrosion. Currently, there are no regulatory controls governing the use of lead wheel weights.
Lead (PDF) (2 pp, 11K, About PDF) is a highly toxic chemical that has been designated as one of 31 Priority Chemicals targeted for reduction by EPA. Read more about the properties, uses, and hazards of lead.
Lead Wheel Weight Quick Facts
There are 200 million autos and light trucks on the nation's roadways.
Sixteen million new autos are produced annually in the United States.
An average of 4.5 ounces of lead is clipped to the wheel rims of every automobile in the United States.
Approximately 50 million pounds of lead is used annually to produce tire weights worldwide in autos and light trucks.
75% is recycled by secondary lead smelters.
25% (or 12.5 million pounds annually) is uncontrolled or unmanaged in the environment.
13% of the 12.5 million pounds (1.6 million pounds) is lost when wheel weights fall off during normal driving conditions (e.g., hitting a pot hole).
87% of the 12.5 millions pounds (10.9 million pounds) is sold or given to hobbyists for recreational purposes (e.g., melting down to make fishing sinkers).
Why Should You Join NPEP's National Lead Free Wheel Weight Initiative (NLFWWI)?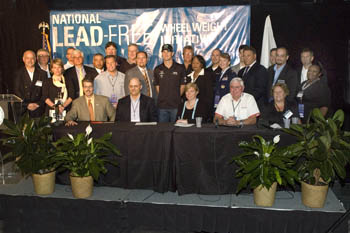 You will be protecting yourself, your employees, and your community from exposure to lead.
Public recognition for achieving voluntary reductions of a Priority Chemical.
Information about your organization and your project posted on this website.
Your environmental achievements and Success Stories posted on this website.
Use of EPA's NPEP logo to identify your organization as a partner (please note that EPA cannot endorse the purchase of a particular company's products or services).
The opportunity to display your NPEP membership plaques and achievement awards to customers, suppliers, employees, and stockholders.
At your request, EPA will notify your local media of your program accomplishments.
Minimize or eliminate the cost and liability of managing lead.
Decrease or eliminate the cost of managing lead.
Reduce lead in the environment. Join the ranks of other responsible companies committed to eliminating lead-free wheel weights.
Links