Learn About the 303(d) Program and What You Can Do to Protect and Restore Waters in Your Community
Understanding the 303(d) program and how one can get actively involved is important to the success of many water quality restoration or protection efforts. Learn what you, as a group or individual, can do to clean up and rebuild an impaired waterbody or safeguard a healthy one. Learn how you can make a difference.
Restoration does not have to be complicated, expensive or high-tech. One such example is the Holmes Lake, Nebraska restoration site: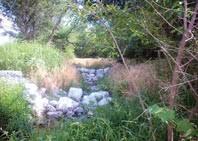 Restored stream. The revegetated stream channel includes rock piles that serve as small dams, often called check dams, to counteract erosion and slow water flow to the lake.