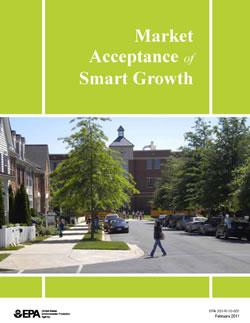 Smart growth neighborhoods have a mix of land uses and housing types and are built compactly to make walking and biking easier. Some communities structure their approval and entitlement process to encourage this type of development. Other communities, less familiar with these neighborhoods, might present more hurdles in the approval process because the design and layout of these projects differ from conventional suburban master-planned developments.
Local governments can determine whether to encourage this type of development by learning more about its market longevity and if it will be a good fit for local residents, employers, the tax base, and the greater community. In addition to learning about the environmental and health benefits, local governments want to know whether these projects maintain their value over the long term, providing a good investment to homeowners and creating a development that enhances the community.  
Market Acceptance of Smart Growth (2011) helps communities better understand the impact of and potential for smart growth development approaches by considering long-term trends in price appreciation. The report compares resale prices for single-family houses and town homes in smart growth developments with units in conventional developments that are equivalent in terms of size, age, amenities, and location.
Not only do smart growth developments enjoy market acceptance as evidenced by stability in prices over time, homes in smart growth developments often enjoy greater resale appreciation than their conventional suburban counterparts.
The report uses resale data from 18 smart growth developments and 18 conventional suburban developments across the United States to contrast their appreciation between 1998 and 2004. Twenty-one comparisons were completed in 17 case studies. (In some cases, there were multiple developments within a single community.)
In 10 of those comparisons, the smart growth communities showed higher resale appreciation.
In six of the comparisons, the conventional suburban communities showed higher resale appreciation.
In two cases, the compared communities showed equivalent performance.
In three cases, inadequate data meant no conclusion could be reached.
These results show consumer acceptance of smart growth projects based on long-term housing values. This report gives communities that are considering developing a smart growth project valuable economic information about how homebuyers value these projects over time.
You may need a PDF reader to view some of the files on this page. See EPA's About PDF page to learn more.