Making a Visible Difference in Communities: Oklahoma
Making a Visible Difference in Communities Home
The Choctaw Nation, OK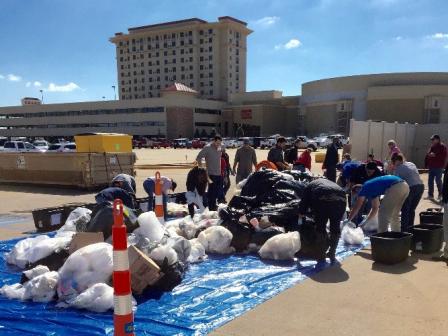 As part of a demonstration in a Waste Characterization workshop, residents of Choctaw Nation collected bags of styrofoam cups from the Citizen Potowatami Nation Grand Casino to transport to its recycling facility.
The Choctaw Nation near Durant, OK requested brownfields assistance to redevelop a closed middle school complex into a native-serving Boys and Girls Club and new office space. This work included abating asbestos and lead-based paint in buildings. Other priorities included:
improving infrastructure and providing training and technical assistance to help the Tribe comply with safe drinking water standards and build capacity
developing Household Hazardous Waste outreach and collection events
developing local food systems with support from the federal Local Foods, Local Places Initiative
Designation as a federal "Promise Zone" will bring additional support for local priorities.