Making a Visible Difference in Communities: North Carolina
Making a Visible Difference in Communities Home
Eastern Band of Cherokee, NC
The Eastern Band of Cherokee Indians is located in western North Carolina, just south of Great Smoky Mountains National Park, and has approximately 15,000 enrolled members, including 8,100 members who live on the reservation. In 2014, the Tribe submitted an application to administer the CWA § 303 water quality standards and §401 certifications programs and revised Tribal Water Quality Standards.
EPA and the Tribe collaborated on cleanup efforts resulting from an underground storage tank leaking petroleum into the Oconaluftee River in 2006, just upstream from the drinking water intake. Since this spill, the intake has been relocated. In addition, the Tribe has demonstrated commitment to environmental sustainability; in 2014 the Tribe adopted a Legacy Plan including 5-10 year goals for environment and natural resource programs, as well as specific priorities where EPA assistance may be beneficial.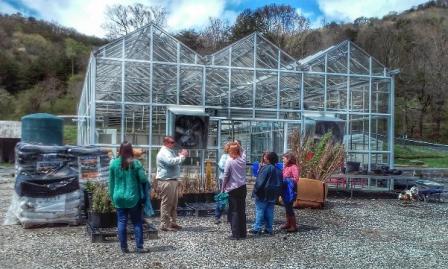 Patrick Breedlove from the Tribe's Watershed Management Program talking with Region 4 staff about the Jessie Owle Dugan Native Plant and Greenhouse Facility built to promulgate native species for use in environmental projects and to provide cultural significance to other projects on the reservation.