Making a Visible Difference in Communities: New York
Making a Visible Difference in Communities Home
---
Akwesasne, NY
St. Regis Mohawk Tribe 
Akwesasne, the Mohawk territory of the federally recognized St. Regis Mohawk Tribe, lies just east of the town of Massena, NY. Akwesasne is adjacent to the GM Central Foundry Division Superfund Site and is located close to two other Superfund sites (Reynolds Metal and Grasse River). The Mohawk Nation at Akwesasne has been disproportionately burdened by the environmental and health impacts of pollution caused by the nearby industrial facilities.
EPA has provided financial and technical assistance to the St. Regis Mohawk Tribe to establish its Environment Division to implement an environmental protection program. The Tribe requested assistance with a number of priorities, including: conducting a comprehensive community health assessment; remediating and redeveloping abandoned gas stations; assessing indoor air quality in homes; supporting the decommissioning and deconstruction of the Hogansburg Dam, and improving the maintenance of drinking water and wastewater systems.
---
Newburgh, NY
Newburgh has among the highest rates of pediatric elevated blood lead levels (> 10ug/dl) in New York State. In response, EPA helped organize the Lead Safe Newburgh Coalition, a partnership that includes city, state, and county agencies along with non-governmental organizations.  Newburgh also faces high asthma rates (both pediatric and adult) in addition to other public health issues. EPA expanded its partnership with the Lead Safe Newburgh Coalition to address additional community needs, particularly related to vacant lots and indoor air quality.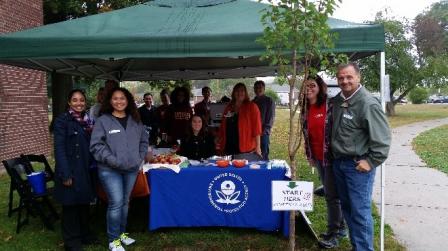 Representatives from EPA, ATSDR, Orange County Department of Health, and Brooklyn College conducting a SoilSHOP to test residential yard & garden soil samples for lead.