Making a Visible Difference in Communities: New Jersey
Making a Visible Difference in Communities Home
---
Camden, NJ
Camden's industrial past and its status as the region's waste recycling center have impacted environmental conditions for the predominantly low-income, minority residents. The city has 2 Superfund sites, 114 known contaminated sites and a combined sewer system that overflows with as little as 1 inch of rain. EPA has a longstanding relationship with the city of Camden and has provided significant amounts of funding in the past for environmental cleanups. Through our continued support of the Camden Collaborative Initiative, EPA worked with our partners to facilitate and leverage partnerships to implement innovative strategies to improve the environment and the quality of life of Camden's residents.
 Priorities included:
Improving air quality.
Addressing illegal dumping.
Minimizing flooding and implementing green infrastructure.
Redeveloping vacant lots.
See also: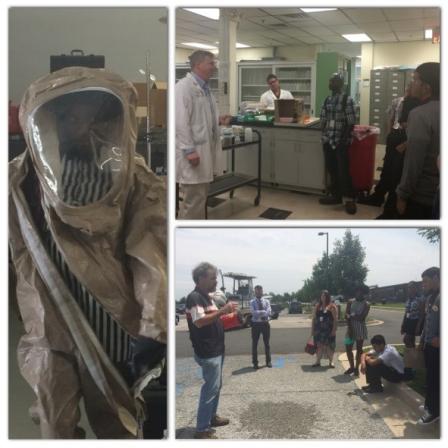 EPA hosted high school students from Camden at our lab in Edison, NJ as part of the Camden Collaborative Green Ambassadors program which provides a summer-long internship to local Camden teens.
---
Newark, NJ
Newark is the largest city in New Jersey. It has:
More than 278,000 people
52 percent African American
33 percent Hispanic/mixed
Median income is $34,387
28 percent of residents live below poverty level
The lower Passaic River, which flows through Newark, is being studied as part of the Diamond Alkali Superfund site. EPA has issued a cleanup plan for the lower 8 miles of the river, which is one of the most costly cleanups ever proposed.
Newark is home to :
The state's largest incinerator.
The region's wastewater treatment plant—a combined sewer system that includes some 68 miles of aging brick combined sewer.
Some of the region's power generation infrastructure.
The ports of Newark and Elizabeth, and heavily trafficked highways and rail lines that surround the community.
In response to these challenges, Newark residents and community organizations have come together, leading to national policy change, including the creation of the Toxics Release Inventory and Community Right to Know Act, and the development of the city's Sustainability Action Plan. EPA engaged other federal and state partners to help the city and its community partners implement this comprehensive plan, which outlines goals for the community in the areas of:
Air quality.
Solid waste and materials management.
Energy.
Stormwater.
Community greening.
Greenhouse gas emission reductions.
See also: