Making a Visible Difference in Communities: Massachusetts
Making a Visible Difference in Communities Home
Lawrence, MA
Lawrence is a mill and manufacturing city of approximately 76,000 people. The city is located on the Merrimack River, which serves as the drinking water source for over 600,000 people.  Lawrence has a high immigrant and poor population, with the Hispanic population reaching 74% and 34.3% of the population below the poverty line. 
Priorities that have evolved from direct community engagement include:
developing a comprehensive water strategy with the City and its partners (e.g., EJ climate mapping to inform communication and outreach)
installation of real-time water quality monitoring along the Merrimac River
development of a flood resilience strategy for drinking water treatment operations
supporting Brownfields planning and redevelopment of key properties (including a Sustainable Communities Building Blocks workshop on strategies for encouraging infill development in Spring 2016)
improving public health and indoor air quality
improving recycling rates and outreach to non-English speaking populations
working with youth while improving employment opportunities in green jobs
providing education and outreach to underserved populations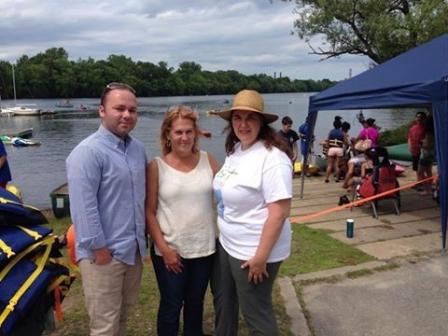 Brian Pena, City of Lawrence Water & Sewer Commissioner; Carolyn Shumway, Executive Director of the Merrimack River Watershed Council; and Kira Jacobs, EPA Region 1 Source Water Coordinator - Drinking Water Program, raising awareness for Lawrence's water recreation possibilities at the Greater Lawrence Community Boating Program's Summer-Fest.