Making a Visible Difference in Communities: Louisiana
Making a Visible Difference in Communities Home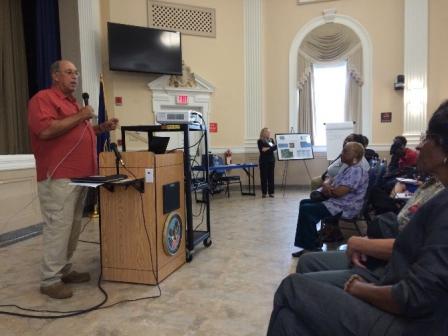 Lt. General Russel Honore (US Army (Ret)) gives opening remarks at EPA's initial Scoping Session with Pineville and Alexandria citizens to introduce concepts of sustainability and what it means to build a sustainable community.
Alexandria/Pineville, LA
Alexandria and Pineville are small communities with several regulated sites in the area:
2 creosoting facilities
a federal Superfund site
a state Superfund site
a metal recycling facility
Several community meetings were held with community members, industry representatives, as well as interested environmental activists (General Honore' of the Green Army and Wilma Subra with the Louisiana Environmental Action Network).  EPA organized a series of projects to address concerns that were voiced in the community meetings, consisting of air and soil sampling, community outreach, and development of a Community Sustainability Network, which is an assembly of community stakeholders working together to resolve community concerns.
The goal of this initiative was to collect soil sampling data in local parks and schools, compile that data with the air monitoring data collected by LDEQ from 2013 to 2015, and address community's concerns through a report in an easy-to-read format for the community, as well as empower the community to discuss and resolve issues through the Community Sustainability Network.