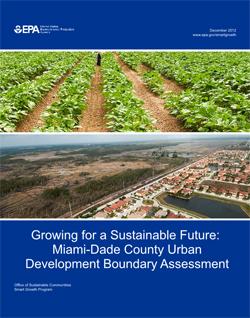 With growing concern about Miami's expansion into areas adjacent to Everglades National Park, Miami-Dade County officials sought solutions to direct growth to already-developed areas. The county requested Smart Growth Implementation Assistance to explore how to guide development toward existing areas and protect sensitive environmental areas. The project provided a key test for understanding how to balance development and conservation goals through smart growth principles.
Growing for a Sustainable Future: Miami-Dade County Urban Development Boundary Assessment (2012) describes the project and options EPA identified for considering growth management. The report focuses on local issues but is applicable to any community grappling with growth management.
You may need a PDF reader to view some of the files on this page. See EPA's About PDF page to learn more.