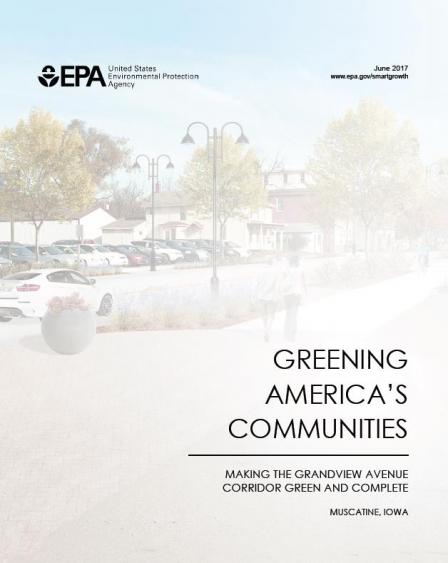 The city of Muscatine, Iowa, requested assistance from EPA through its Greening America's Communities Program to create a cohesive vision for Grandview Avenue, the city's southern gateway. The city wants to transform this street and the surrounding corridor, rarely explored on foot, into a model for how to improve pedestrian and cyclist safety and comfort and use green infrastructure strategies such as swales, stormwater planters and permeable paving to manage stormwater runoff.
As a part of this project, city staff members hope to make the Grandview Avenue corridor a more inviting entrance to the community and a more attractive neighborhood for economic development all while addressing stormwater and localized flooding concerns.
The report includes a description of the three-day workshop held in January 2017 in Muscatine to engage stakeholders, residents, business owners, and community members in a process that outlined goals for the project and developed design options that respond to those goals.
The report also outlines opportunities and challenges that informed the design options for several key locations. The city chose these locations based on their potential to help area businesses and residents, as well as their capacity to illustrate the transformative potential of green and complete streets.
Through the interactive design workshop, the EPA team presented design options that could improve the safety and comfort of pedestrians and bicyclists, such as sidewalks, a roundabout, medians to slow traffic, and light fixtures. Additionally, a trailhead that connects to the Running River Trail System, an outdoor classroom, and a small public park have been proposed.
The design options also include integrated green stormwater infrastructure components such as stormwater swales with native plantings, improvements to Brier's Ditch, permeable pavement, and street trees. These various improvements will reduce flooding along Grandview Avenue, improve water quality, and make the street more pleasant and inviting for all.
You may need a PDF reader to view some of the files on this page. See EPA's About PDF page to learn more.