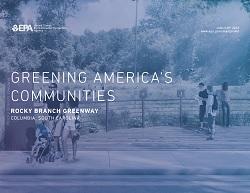 The city of Columbia, South Carolina, received assistance from EPA's Greening America's Communities program to visualize potential improvements to a city-owned parcel of land along the Rocky Branch, which runs east-west from the Five Points district in downtown to the Congaree River. This project fits into the larger vision for Columbia's Rocky Branch Greenway and is one of the last remaining stands of canopy trees and space for recreational use in the Capital City Mill District.
EPA contracted landscape architects and designers to guide the city in the development of concepts based on the goals of the city and the desires of the public. The design and consultation process included a three-day workshop in Columbia with federal, state, county, and city staff; local property owners; residents; local developers and designers; and other stakeholders.
This report illustrates the existing site conditions and potential design strategies for five selected areas within. Each of these areas has its own set of challenges such as polluted stormwater runoff, excessive flooding, and demolition debris accumulation.
Workshop participants expressed the desire to improve access to the site so people could enjoy a quiet, natural area within the city; reduce flooding concerns; and link the site to a wider greenway network planned in the city.
Design options include green infrastructure such as new street trees and bioswales that can reduce runoff volume and filter it as it percolates into the ground water. Ideas for the restoration of the eroded banks of Rocky Branch and the installation of public gathering areas for relaxation and learning are also depicted.
The city of Columbia, working with its partners and stakeholders, could use the designs and implementation options to guide a revitalization of the Rocky Branch parcel to create an attractive setting for recreational activities, commuting, and learning.
You may need a PDF reader to view some of the files on this page. See EPA's About PDF page to learn more.